The food delivery services are growing in full swing. Now it's not just limited to events and ceremonies, but they are part of the commoner's routine. The customers vary from office workers to young lads, students, and homemakers.
Convenience and flexibility are two things that businesses are including in their solutions. Online food ordering allows people to order food from a favorite nearby restaurant from the comfort of their home.
That's why restaurants/hotels are turning towards the online delivery business. In recent times, it has gained immense popularity. I think it is the right time to invest money in online food services.
Thanks to the interesting ROI on these services, entrepreneurs are considering the delivery service as a business idea. Let's take a look at how to start a food delivery business. The different verticals that you need to understand of food delivery services.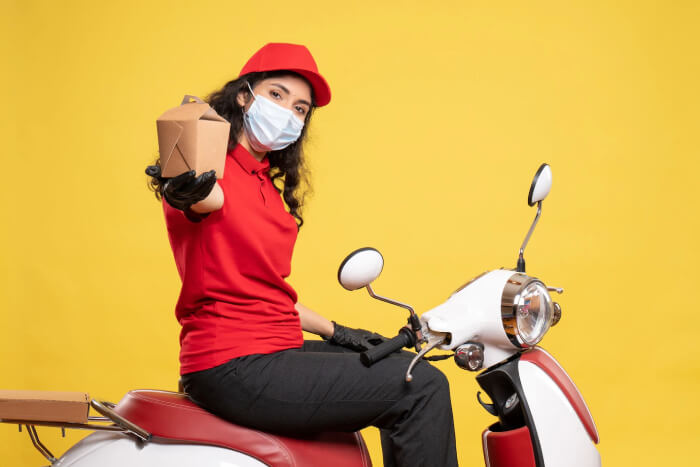 Only Order:
This service is usually served through a mobile application or a web page, it allows users to order food from their preferred restaurants.
Only Delivery:
The delivery service, the process that deal with only the delivery phase of the order, is mostly used by restaurants and hotels that like to outsource to another company.
Order and delivery:
Combining the above two services, let people order the food, the restaurant works is to prepare and deliver the meal to the customers.
Full-integrated:
Upcoming model, which includes raw materials to the meal everything for the delivery.
Entrepreneur's Requirements
Let's see some basic skills and knowledge that are required in an entrepreneur to start a food delivery business.
Passion for food:
our life is going to revolve around food, and there is no point of start a food delivery app or company if you don't love cooking.
Culinary Skills:
Either you have options of hiring top-notch chefs or learning how to cook, but in any such conditions, it is significant for an entrepreneur to know the secrets of dishes.
Communication skills:
Although it is a must-have skill for all professionals but in this particular industry, it is a topmost priority. It is important to listen to the customers, and positively react to the problems to run the business.
Business Plan for Food Delivery Business
Before starting any business, entrepreneurs must create a business plan that includes all the essential information and through which they can calculate the risk of the idea.
From the detailed information of the project to understanding the market trends to reaching the target audience, considering the gap between the investment and profits.
These points help you decide whether it is appropriate to take the initiative or not. Additionally, it is critical to make strategies for anyone who needs to apply for a bank loan.
5 Market Leaders in Food Delivery Mobile App Industry
Image Source: Apptunix
Identification of the target
Lately, it is required to comprehend the target audience: who will be going to use your services?
Common people who use food delivery services and mobile apps are different, to achieve success you need to identify the customers who would love to use your services and products.
You need to ask a lot of questions yourself such as what you want to provide them for breakfast, lunch, and dinner. The age group of people that frequently order food and the type of menu that is trending.
Marketing Activities
Marketing activities rely on your budget. If you are in a good position, then you can do advanced marketing, promotions, and launching events for your business.
On the other hand, if you are running low on budget, then it's advisable to promote business through social media, word of mouth, and guerrilla marketing activities.
Those who are planning big can ideally talk to radio stations and local TV channels regarding the promotions of their services.
Features you should include in Food Delivery Mobile App
Order, Kitchen, and Delivery Process
In order to generate high profits from your service, you need to integrate something that complements all the requests, it's only possible through digitalization.
For web app development or mobile app development, I recommend you consult a web development and mobile app development company. These online methods are the key ways to start your new business, it's important for you to include features like estimated arrival time of order, restaurant listing, price, menu, contact delivery partner, and company policies.
In case of growing your business through digitalization, you need to keep an eye on the production department including the kitchen, refrigerators, ovens, freezers, and utensils.
Along with these, there are many other expensive things that you need to take care of. One of the things we advised you is to include all these in your expenses while investing in your business.
Moreover, the major task in online food delivery services is the delivery phase, the choice of transportation creates a huge impact on your business.
In a similar line, the waiting time of customers and price should be according to the industry standards. The ideal vehicle must have enough space to carry the food in an organized manner.
Packaging Process:
There is no point in delivering the spilled food, the food packaging should not be taken for granted. As transporting food to another place, it plays a vital role. Therefore, you need to take care of all the small details.
Final Words
Many other aspects need to be jotted down such as ETA, refund policies, delivery costing, production costs, food app development costs, and many more. To run a food delivery service business, your smartphone will help your monitor performance.
Although, starting a food delivery business is a profitable business idea. However, you need to adhere to the essentials factor and solutions for customers' requirements. So keep all these points in your mind before you start your food delivery business.