The mobile app market is expanding like never before in the current fast-paced world. Mobile applications are influencing every aspect of our lives.
Have you always dreamt or wanted to start a new mobile application?
But are you still in a dilemma about what it takes to develop and launch one?
We have put down together ten steps that you need to follow to develop and launch a successful mobile app like reface. Since there is a lot of competition in the world of mobile apps, you need to be very particular about the strategy and approach you would use for your first mobile app.
Read on to find out the 10 steps to create a successful first mobile application.
Start With A Great Idea
The first step to a successful mobile app is a brilliant app idea. Don't have one? Then look around you. The key to successful entrepreneurship is providing simple, quick, and unique solutions to problems. So, be on the lookout for problems around you that can be solved with the help of a mobile application. Shortlist all of them and pick the one which makes the most sense and needs a solution.
Analyze The Requirement
How useful will your app be to people? Do they need it? You should analyze the need of the application before you proceed further. Google Keyword Planner tool will help you validate your idea.
Put in some keywords and run a search with the help of this tool. You will know the number of people searching for what you're trying to do. So, get to know whether your idea is something people want to use or not. If they don't need it, go back to step 1 and come up with another idea.
Put It On Paper
Once you make sure that your app idea is desired, put your idea on paper. Try detailing your app idea in a document. You can use a wireframing tool if you want to. Remember to throw in all the details of your idea.
Pen down the flow in which your user will navigate the app and all the features you want to add. This will help your developer of an app development company to understand your expectations.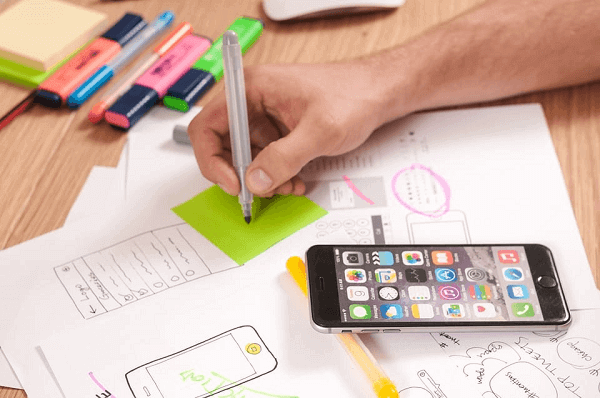 Throw Out All The Non-Core App Features.
This is your first mobile application. To keep the initial cost of development low, cut down the flow and features that are only "nice to have" but aren't necessary for the first version. Make sure you offer only the core features. This will also help in better marketing.
Concentrate On Design
Many entrepreneurs prefer a very basic design to focus only on app development. That's the wrong choice! A good design will enhance the user experience. So, look for app development services that will give you a design that gives an amazing user experience and graphics.
Hire A Good App Developer
Seek a reputable app development company that has great expertise and a skilled development team. Check the profile and portfolio of the company. If you like their previously developed apps, they might be your ideal mobile app developer.
Register For A Developer Account
Register yourself for a developer account with the app stores like Google Play Store and Apple App Store to sell your app on their online platforms. You can register as an individual or as a company if you have already established one. After registration, your app will be ready to go live.
Make Sure To Run Analytics
If you want to track the number of downloads for your app, and know about user engagement and retention for your mobile application, running a few important analytics will help you. You can utilize tools such as Flurry, and Localytics.
Flurry is available at zero cost while Localytics has both free and paid versions. Choose a tool of your choice and obtain all the necessary data for your app.
Quickly Obtain Feedback And Modify
User feedback is very important to running a successful mobile application and making money from it. After your app goes live on the respective app stores, look out for the feedback of the first set of customers.
This will give you an idea about the performance of the app, public opinion on it, and whether you have to improvise and make modifications to it. Every app needs constant enhancements and updates. So, watch out for customer feedback and user reviews.
Introduce An Update
The first version of your app was built with limited and core features. Now is the time to introduce additional features that were skipped while developing the initial basic version. Through analytical and user feedback, make sure whether such features are still relevant or not.
If they aren't, think about a new feature that you can add to your mobile app and introduce an updated version. Make use of good app development services to prepare an engaging update.
The above-outlined steps summarise the important tasks you should accomplish before, while, and after developing and launching your mobile app. These steps act as a guideline to help you build a successful mobile application for your app. So, if developing an app has been your dream, start today! Start now!