Ever since the emergence of the COVID-19 pandemic, several companies all around the globe have started adopting digital strategies to ensure business continuity.
Software companies were widely leveraged to develop innovative software solutions for businesses that were capable of enhancing employee productivity, customer satisfaction, and overall business performance.
To develop such software solutions, mobile or web application companies had two distinct options!
In-house Development vs Software Outsourcing
Both these options were equally efficient and effective, therefore business decision-makers had another challenge.
Which option to select for their business?
Therefore, this article will help confused decision-makers in making the right choice by focusing on the key pros and cons of in-house vs. outsourcing software development.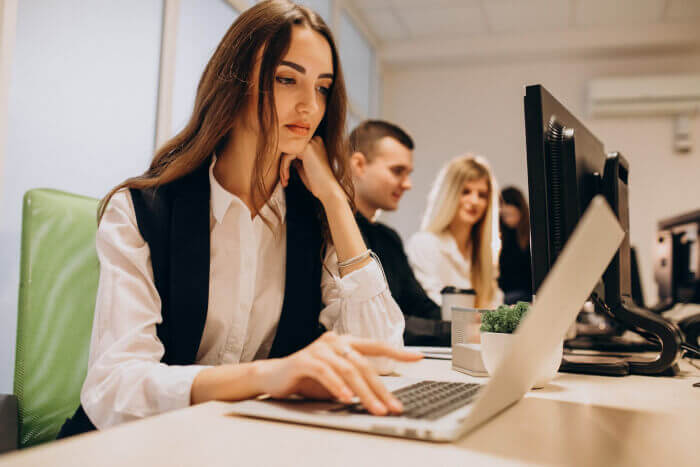 In-House Development
Imagine you hire permanent employees such as software developers, project managers, QA teams, and testers and build your own team from scratch.
You pay each employee a monthly salary and keep them on board permanently to build new applications for yourself or your clients, then that's called in-house development.
You might also require efficient HR teams to fill up the necessary developer positions based on their skillsets, technology expertise, and experience.
Pros of In-House Development
You get the opportunity to build an actual team of software developers that are aligned with your company's work ethics and culture.
Your team can embody the company's core values, and take part in organizational events, digital meet-ups, webinars, and much more.
You get to deeply analyze the person's skills before hiring them onto your team. This is efficient for long-lasting bonding
When your team of developers, testers, and project managers work directly under your guidance there is more synergy and this could eventually help in bringing your software ideas to life much faster.
The communication between team members is always direct and can be able to interact in their native languages which could sometimes ensure that there is no miscommunication.
If you want to reach out to your employee or a software developer on the team then you can directly contact the person and there is no need for bouncing emails between intermediates.
Face-to-face communication in the physical workspace can help speed up discussions, scrum-meeting, concerns, etc.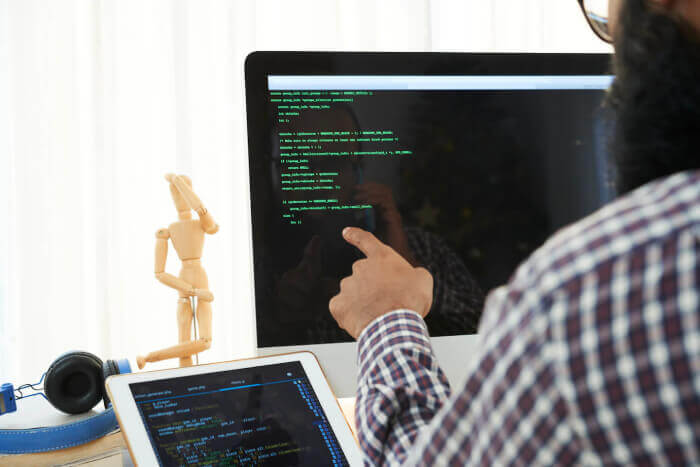 Cons of In-House Development
It can get expensive
There is no doubt that software developers are some of the highest-paid employees in the tech world, especially in countries like the UK, USA, and Canada. And to build an effective solution that is for an enterprise or large business, you must need more than one software developer.
Also, permanent employees working at an organization require more than just salary, there are bonuses, incentives, company profit, insurance, vacation expenses, social security, recruitment, and much more.
All these factors require huge payment that has to come from the business owner.
The turnover rate can be high
As mentioned earlier, ever since the emergence of the COVID-19 pandemic, software solutions, and developers are in extreme demand all over the globe. Not only will you have a tough time finding the right talent but it can get even tougher to retain the talent.
Competitive companies and recruiters will offer higher amounts of pay and that can lead to employees leaving your company. And in some cases, it can happen during ongoing projects which can make the complete software development project in jeopardy.
Upskilling the team is your responsibility.
New technologies, tools, programming languages, and platforms are continuously taking over the IT industry. For a business to stay up to date with these constant changes, they will have to make sure that their employees are provided with proper training, classes, webinars, and much more.
This is another additional investment that a business owner will have to make in order to ensure that the software solutions are not outdated and the developers can meet trending software requirements.
Outsourced Development
Outsourced development is when you do not have to worry about any of the above-mentioned factors but simply hire an agency to take care of it all.
Outsourcing is usually done through a contractual agreement between the software developers and the clients, where the requirements are conveyed to experienced project managers or team leads.
Even top renowned companies such as Google and Slack have outsourced their IT developments and are still continuing to do so. It has been an ever-growing trend as Outsourced development is favored for its low-cost development, easy team integration, and scalability.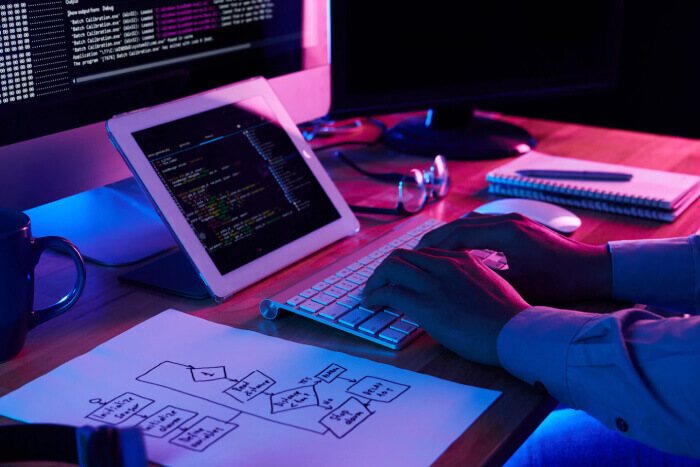 Pros Of Outsourcing
Better control over cost
As mentioned earlier, hiring software developers as a part of your permanent team can be expensive and difficult to retain. Especially, in countries such as US and UK, software developers have high-paid salaries and are in extreme demand.
So for business owners in such countries, hiring local talents come at a premium cost. Also, the infrastructure, test labs, new tools, etc will be quite expensive to purchase.
But with the help of outsourcing, business owners will have the engage with software development services providers in countries where the salaries are considerably lower, for the same level of expertise, or even tools, technologies, and infrastructure.
A large pool of talents
When you hire permanent software developers, your HR teams will have to look for potential candidates within your vicinity. This can be significantly challenging as finding a group of IT talents from a particular region or location can be difficult for the HR team.
But if you outsource your software development project you will be spoilt with options as there is an immense global pool of talented software developers to choose from.
No technology constraints
Software trends are constantly changing and with the emergence of AI and ML, more innovative solutions are required in projects. Therefore, when hiring permanent employees, companies have to make sure that they possess diverse skill sets because hiring one developer for each skill set can be really expensive.
Hence, you need an expert who can handle multiple technology requirements. Such employees can be difficult to find and also because of their immense skill set they will be always in high demand. By hiring an outsourced software development team, you can get access to experts who are masters in all trades.
Cons of Outsourced Development
An outsourced software development team does not work only for your project but will have multiple projects in the queue.
Project updates and timely briefing will be difficult to obtain.
Outsourcing to IT firms at different time zones will cause issues in meetings and daily scrums due to differences in time zone.
Language can be a problem, therefore always make sure to hire firms that possess great communication skills.
Data or project confidentiality can be a concern therefore make sure to sign NDA before hiring an outsourced software development team.
Conclusion
Before beginning your software development process, always make sure to evaluate the needs of the development project, the time required to complete the project, and the number of resources to be included.
Based on this, decide whether you want to develop it in-house itself or rather outsource it to a software development company.
Both software development strategies have their own unique benefits and challenges and therefore, it is imperative that you carefully consider each one before moving forward with your development.