Regardless of its size, every organization relies on some document management system to keep track of the countless papers published every day.
Document management has developed from paper file systems to the most recent content management, which uses modern storage technology to handle data stored in various PDF files.
Social media marketers require an efficient document management system to run their business smoothly. Sometimes, managing and organizing these documents give them a headache.
They struggle to manage documents effectively and face numerous challenges. Following are some of the most persistent document management issues that social media marketers face.
Time Management 
Time management is one of the most obvious document management issues digital marketers face. Unfortunately, some of them still employ outdated document management systems that rely on paper.
They rely on the physical movement of documents from one employee to the next, which takes a significant amount of time and energy. Furthermore, it also reduces their work productivity.
Security 
Many business documents include confidential information that must be kept safe. Manual processes, on the other hand, provide almost no security protection. 
It is quite easy to get into such systems and extract confidential information, which can be destructive to a company's operations in some situations.
Losing Crucial Information 
When storing papers manually, there is always the risk of human error, resulting in a document being filed under the incorrect name or being lost entirely. You may lose even more time, money, and effort as you search for the document or recreate it from scratch.
Editing Problem
Multiple tweaks are not possible with paper because each time an update is made, a printout is required to capture the document's final version. This is a waste of time and resources for the company.
Challenges of Numerous File Versions 
When you are editing papers, it is easy to become confused about whether the document you are holding is the final version or not. It does not sound good that the paper you have been working on for a long time is an old version.
If you are dealing with any of these document management pain points, you are not alone. Even professional marketers get stuck with organizing documents manually.
So what to do in order to fix these major challenges?
No worries!
Here is an ultimate solution to these challenges. It's time to say goodbye to these pain points and welcome an online PDF merger.
Yes, you have heard right!
A PDF merger is a:
Ultimate time savior 
With an online PDF compiler, you do not need to spend hours organizing documents. Instead, you can merge numerous PDFs into a single document within a few seconds. In this way, it saves you time; hence, you can spend your energy in performing other tasks. 
Foolproof security 
Merging several files into one PDF is a secure approach. The compiled files will be automatically erased from the server after half an hour so that your private information remains safe. 
Let's you edit files 
Combining PDF files into one document will never let you down. You can rearrange your files in the desired order. Moreover, you do not need to follow any particular paper format when you have all the merged documents in PDF. 
In this way, you can unify multiple versions of the same format using the merge PDF online tool. To combine PDF files, you will need a free PDF merger online tool so you can join the bulk of PDFs into one complete file. How amazing it is!
You can benefit from an online PDF merger for various reasons:
Save storage space

Organize files precisely

Reduce your office's paper use

Assemble a report using several resources
As a result, a trustworthy PDF combiner can be used for: managing social media documents efficiently.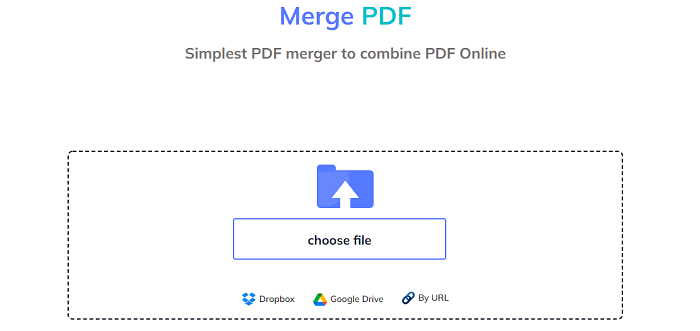 Consider the following scenario: you need to share many PDF files with another department at work.
You do not want your team members to get confused by overloading them with files. Combining all PDF files into a single file for easy sharing would be much easier. That is precisely the purpose of a high-quality PDF joiner. 
How to Merge PDF Files Effectively?
Follow these points to compile PDFs into a single file:
Choose a Suitable PDF Combiner
The initial step in joining PDFs is to go to the homepage of a PDF combiner.
Select Your PDFs
Now, press "Choose Files" and select all of the files you want to merge. 
Combine PDFs
Finally, tap the "Merge Files" icon to organize your PDFs automatically. That's it.
Benefits of Using a PDF Combiner
We will go through some of the major benefits of combining your PDF documents now. Let's get started. 
Data Sharing Becomes Easier
Suppose you want to share several PDF documents with your colleagues via email. What will you do?
Will you send each file individually?
If you do like this, it would be a waste of time. On the contrary, merging them into a single file will solve your problem.
Managing Major Corporate Projects Is Simple
Every businessperson understands that handling large projects involves significant research and a great deal of work to keep secret papers safe.
The number of PDF files will be massive if the project is large and numerous teams are working on it.
Handling a large number of PDF files is difficult since the information is dispersed across multiple files, making it difficult to rapidly access a certain area.
Combining PDF files into one is a foolproof step. Plus, it also reduces the number of files and speeds up the search process.
Scanning and Printing Documents Become a Breeze
You will need handouts when you meet with your team or employees. It is impossible to avoid incorporating a sector, producing reports and discussing it with coworkers.
But what if the data is dispersed among several PDF files? Obviously, you will have to read through all of the files again to find the information you require.
You will also open each file individually, scan them, and print them. This activity will require a significant amount of time, which an individual will not be able to commit.
A PDF combiner is used to combine multiple PDF files into a single file. It will just take a few clicks to scan and print all of the pages once you have all of the information in a single PDF.
It becomes simple to Manage Archive Files
What is archiving of documents?
Information that is no longer needed is safely saved for long periods. Thousands of files are stored electronically in record libraries and document archiving firms.
Because these files are maintained electronically, they can be combined into a single PDF document to save time and effort while searching for them.
Bottom Lines
Anyone who works with documents understands the value of PDF files.
Managing a large number of PDF documents is a huge challenge for social media marketers. The problem can be solved by combining the PDFs into a single large file.
The ultimate guide will help you learn about the advantages of combining PDFs. Merging PDFs will be simple and time-saving with the help of a PDF binder.