The distinction between eCommerce and social media is blurring, resulting in social commerce. Since its implementation, brands have gained increased user trust, engagement, interaction, and conversions.
Social Commerce defines eCommerce business practices by shortening the purchase journey, which has become critical as user responses have shifted dramatically.
Read to the end of the blog to learn about the top 5 social commerce trends currently dominating the market and will continue to dominate shortly.
Rise of Social Commerce
Users of social media spend a lot of time scrolling through their feeds. To conduct business successfully, brands needed to be everywhere, especially on social media platforms.
Social commerce trends have emerged as irrefutable strategies for the eCommerce industry and will continue to do so in the coming years.
In terms of facts, Instagram and Snapchat are leading the way in generating sales from Gen Z, as they spend twice as much time shopping on social media as the average consumer. Gen X, on the other hand, prefers Facebook.
Furthermore, the rise of UGC and users' reliance on and trust in it gave brands another reason to shift their sales to social media.
Finally, you can look at some examples of social commerce to see how it is convenient, compelling, and easily drives conversions for brands.
Social Commerce Figures for 2023
Due to the convenience of purchasing something within the social platform where one first discovered a product, social commerce has seen a significant increase in recent years. 
The introduction of Facebook Shops aided in the growth of this new sales channel. Twitter also introduced commerce features in the form of Twitter card shop buttons in tweets. 
TikTok, with its TikTok Shopping suite, followed suit. Instagram, Etsy, Pinterest, WeChat, and other social commerce platforms are present, and dozens more are on the way. 
Their number is expected to grow even further in 2023 after social sellers generated $724 billion in global revenue in 2022.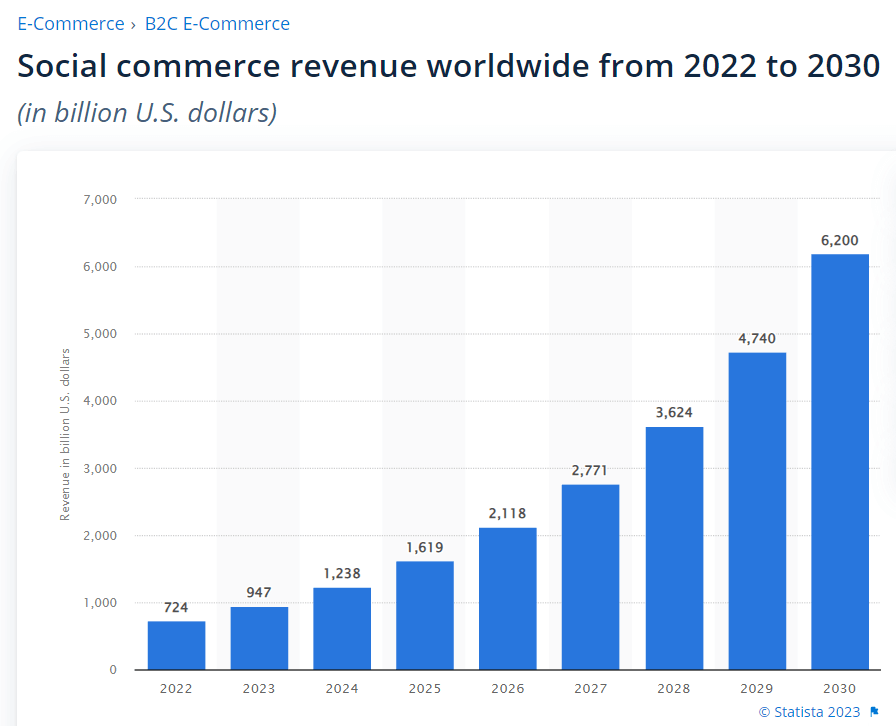 5 Social Commerce Trends for 2023
Social commerce has stepped up in recent years on the back of some exciting trends, and 2023 will present the same story `with some novel social commerce trends chipping in.
1- Collaboration with Micro-Influencers
Collaboration with micro-influencers is not a new trend, but it is still relevant today and will be in 2023. Micro-influencers, in particular, will help small businesses balance their ad budgets while reaching a larger audience.
Micro-influencers collaborate with brands on budgets that even small businesses can afford, unlike some big-name influencers with hundreds of thousands to millions of followers.
They frequently have very specific audience types, which makes segmentation and ad targeting easier. Furthermore, they are perceived to be more genuine and transparent about paid collaborations than major influencers. 
Considering all of these factors, micro-influencers have a significant impact on assisting brands in driving conversions.
According to marketing experts, more brands will choose micro-influencers who can quickly and visually tell a brand story so that they can repurpose their content across their platforms, including email.
2- User-Generated Content: An Effective Marketing Strategy
People communicating and sharing information is at the heart of social media. While this may appear at odds with social commerce in some ways, it would not be a problem if brands avoided hard sales or overt advertising.
Of course, brands have been using social media to advertise for years. People now recognize Facebook Ads as a legitimate component of the platform. 
It should be noted, however, that the most successful brands do not create ads that look like traditional advertisements. They're more subtle and less "out there." 
Brands typically provide useful and relevant information about a product to provide value to those who are subjected to these advertisements. 
Anything that looks like a traditional advertisement is usually ignored and scrolled past by social media users.
User-generated content (UGC) has revolutionized the digital landscape, and its impact continues to grow. With the rise of social media platforms, individuals now have the power to create and share content, ranging from text to image and videos.
One exciting trend in UGC is the conversion of image to videos, allowing users to transform their visual creations into dynamic and engaging multimedia experiences. This process unlocks new possibilities for storytelling and creative expression, enhancing the overall user experience
An advantage of user-generated content is that it can change people's perceptions more effectively. 
It's not just a brand promoting itself; this content was created by someone perceived to be neutral, making it more trustworthy.
It suggests a high level of trust. More than 88% of consumers believe UGC is more trustworthy than influencers.
3- Addition of Shopping Gallery Link in the Bio
Another social commerce trend that brands have been following is the inclusion of a shoppable gallery link in the profile description of social media platforms, which is likely to continue. 
It has aided brands in driving traffic from social media platforms and increasing sales.
The Shoppable Instagram Link feature allows you to convert your social posts into shoppable feeds by creating a unique URL for this feed. 
You can then share this link on Instagram, Pinterest, YouTube, Facebook, and other platforms to increase traffic, engagement, and sales.
It's growing in popularity because it goes beyond Instagram's popular "Link In Bio." To make it more powerful, you can curate visual or textual feeds from digital and social platforms, including a CTA.
Share this link with your users through emails, ads, and other means.
4- Mainstream Use Of NFTs (Non-Fungible Tokens)
With the increased popularity of the Metaverse in 2022, the demand for non-fungible tokens (NFTs) became mainstream. This was boosted even more by Facebook's rebranding as Meta. 
Many independent artists and digital creators welcomed this ground-breaking method of remuneration for their work. 
In addition, in 2022, Meta began sharing and selling NFT trials on Facebook and Instagram to a select group of US-based users.
However, there is still much debate about the use and nature of NFTs. Its use has been criticized for its significant environmental impact, unreliability, lack of regulations, and volatile nature. 
Still, social commerce and eCommerce brands should investigate how NFTs may benefit them in the emerging creative economy and digital ecosystem.
NFTs, as a new form of social commerce, have the potential to empower creators, collectors, and small businesses alike. 
But before you dive in, make sure you do your homework. Identify potential use cases, evaluate risks, and determine whether NFTs can add long-term value to your business.
Wrapping Up
Since we have shared the top 5 social commerce trends for 2023, it is up to you to utilize them in the best way possible.