Business intelligence is a crucial part of every business that plays an inevitable role in the decision-making process. And  Microsoft Power BI is a software solution that helps perform BI tasks.
Currently, most small, medium, or large-scale companies use Power BI in their business. It offers a feature-rich dashboard to monitor business operations and get actionable insights closely. 
In other words, Power BI solutions have become an integral part of modern business operations.
There are multiple reasons behind this trend, like growing interest in data visualization, increased investment in analytics, digital transformation, and much more. So, it would be wise to incorporate Power BI into your business.
However, many BI or Business Intelligence Companies are working in the market, making it difficult to choose the right one. 
There are a lot of factors you need to consider while choosing a Power BI Development Company, like, core services, expertise, experience, the technology they use, and so on. And here, we will list the Top Power BI Companies (globally) you can hire for your business.
We will also discuss the importance of Power BI solutions in business intelligence, how to choose the right service provider, and more. 
Business Intelligence and MS Power BI
Business Intelligence or BI provide meaningful insights and helps in making strategic decision in business operations. BI tools analyze histological and present-day data and provide the findings intuitively and visually.
Business intelligence works to analyze business data and help in the decision-making process with data analysis and data visualization. There are four crucial steps in a BI work process: data gathering, analysis, and finding visualization.
These three steps build the stage for the fourth, the final step called decision making, where you can take real-time actions based on the visualized findings. 
MS Power BI is primarily a data visualization software launched by Microsoft in 2011. The software is designed to focus on business intelligence tasks and is part of the Microsoft Power Platform.
Power BI is a compilation of software services, apps, and networks working together to change scattered and raw data into interactive, coherent, and visually immersive insights.
Power BI is a cloud-based solution that obtains data warehouse capabilities like discovery and preparation.
The critical components of Power BI solutions are the dashboard, services, mobile app, gateway, embedded, report server, premium, marketplace, dataflow, dataset, datamart, and datahub. 
Microsoft's Power BI solution holds interesting features, and the rich dashboard gets an auto-update with new and exciting features every month.
Power BI makes BI tasks more accessible and more accurate. Thus, more and more companies hire certified Power bi consulting companies to incorporate Power BI solutions into their business. 
Top Power BI Development Companies
There are thousands of power BI consultant agencies working across the globe. However, not all can match the industry standards or provide quality Power BI solutions.
So, we have researched and listed the top 10 power BI companies with global recognition for their power BI consulting services.
1. Science Soft 
Science Soft is a power BI development company that offers a full stack power BI solution from power BI consultancy to implementation, maintenance, and support. They are also known as the industry's leading Power BI app development company.
Science Soft is an ISO 9001 and ISO:27001 Certified company that has provided data analytics services since 1989 and has been a Microsoft Power BI partner since 2016.
They offer highly effective Power BI solutions with Microsoft Power BI, Golag, Java, .net, python, PHP, etc. Science Soft offers IT services, UX and UI design, testing and QA, Application Development, infrastructure services, and business intelligence.
Their partners include Microsoft, Amazon, Abode Commerce, Salesforce, and IBM.
Core services – Digital transformation, UI/UX design, Software development, managed IT services, Data Analytics, Infrastructure services, testing, and QA. 
Notable customers- Alta Resources, bioAffinity, tBW, Sal Saudi Logistics Services, etc. 
2. Chetu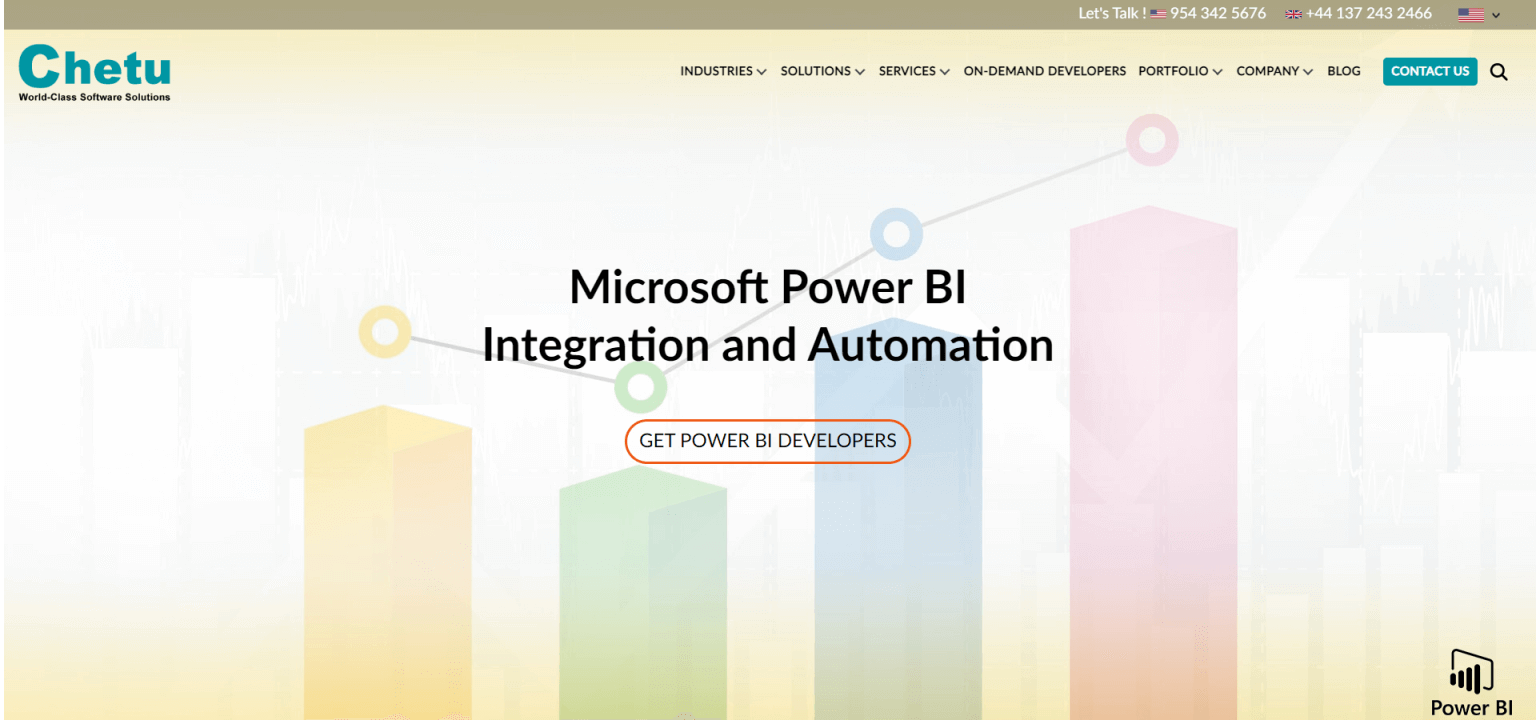 Chetu is also a top business intelligence software company serving 7000+ global customers. Chetu is a leading software company headquartered in the US and UK.
They have 2800+ on board experienced developers who offer quality power BI and software solutions for more than 40 different industries like education, healthcare, banking and finance, hospitality and travel, gaming, entertainment and media, legal, agriculture, human capital management, lending, Aviation, construction and more.
The company offers a wide range of software services like Power BI services, DevOps, web hosting, QA testing, digital transformation, implementation, etc.
Chetu has been recognized by various global organizations and received more than 150 prestigious awards for their quality Software development services, including Forbes, Clutch, SFBJ, and the Channel Co. 
Core services- Power BI implementation and support, API Development, App development, business outsourcing, DevOps, web hosting, software security, and more. 
Notable customers- PathVu, Oasis, modernist pantry, and PRVT.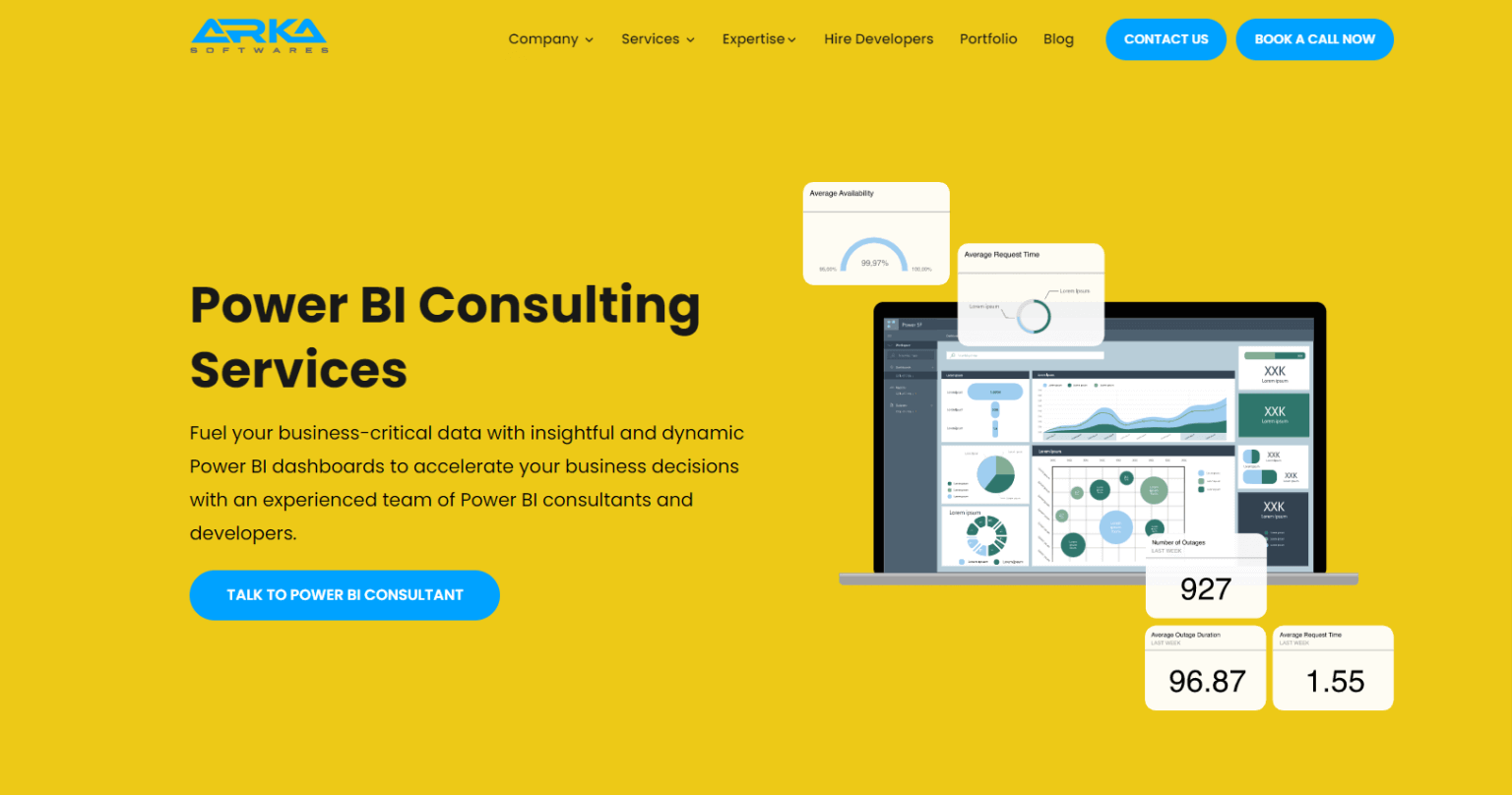 Arka Softwares is one of the top Power bi consulting companies that have provided quality Power BI consulting services since 2010. The company is an ISO 9001:2015 Certified power BI company.
They have 120+ dedicated developers and technical staff who aims to deliver future-driven, innovative, and valuable software solutions for their clients. Arka Softwares is a Jaipur, India-based company with multiple branches in countries like the US, UK, and Australia. 
They provide quality custom software, mobile, and web application development services with BI consultancy, Microsoft development, and more.
The company uses advanced technologies in its development projects, such as MonogoDB, Drupal, Microsoft, Salesforce, Full-stack, etc. Their power BI solutions are crafted to match different industry needs and provide cost-effective business Intelligence services.
Arka Softwares offers Power BI and other development services for industries like, education, healthcare, entertainment and media, banking and finance, events and tickets, real estate, e-commerce, etc. Many prestigious organizations like Clutch, BussinesofApps, Goodfirms, ITFirms, etc., also recognize them. 
Core services – Bi consultancy, Microsoft development, e-commerce development, custom software, mobile application, and web app development.
Notable customers – Fehemni, All N1 fashionista, ReadUp, IPC Kuwait, etc.
4. DatatoBiz
Data toBiz is also one of the top BI companies offering various technology and software development services. Their primary focus is big data analytics and AI automation solutions.
They have been working in the IT service and consultancy industry for over 12 years and have a sufficient number of dedicated developers to run their projects.
Data toBiz is a Chandigarh-based company with regional offices in US and Botswana. They offer cutting-edge tools like Azure, Big Data, AWS, NPL, VA, Power BI, and Tabelu to provide their customers with quality service.
Data toBiz offers advanced, accurate data solutions to simplify decision-making with meaningful, intuitive data visualization and insights. They are recognized by Clutch, USA Today, FOX, Market Watch, Benzinga, and Digital Journal. 
Core services-  Data Analytics, Data warehousing, natural language processing, Big Data services, and computer vision. 
Notable customers – IDBI Bank, ICICI Bank, Flifkart, Getmee, AbG2, NPCI, Transsight, Speero, Botswana Trans Africa, Mankind Pharm, etc. 
5. Celebal Technologies
Celebal Technologies is one of the top Power bi consulting companies that offer complete Power BI consulting services with other technology and software development services.
It is a Jaipur-based company that comprises 5000+ dedicated members and onboard developers providing quality tech solutions across the globe. Celebal Technologies has a client base across the US, UK, Australia, Netherlands, and other regions.
They provide complete Power BI consulting services from consultation and planning to implementation and maintenance. Some key components of Power BI services include instant deployment, data sourcing, real-time insights, data visualization, governance, collaboration, and integration. 
Core services include business intelligence, power apps, chatbots, cloud innovation, Azure services, data services, digital transformation, and enterprise cloud. 
6. Bitscape
Bitscape is among the top-rated power BI app developers in our list of top BI companies. Bitscape has been working in the IT industry for more than 21 years.
The company offers a wide range of tech services with cutting-edge technologies like Microsoft Azure, SharePoint, power pages, team, power Apps, office 365, Power BI, .net Framework, LeaserficheECM, and more. 
They are goal-oriented, future-driven, and dedicated. They provide quality services across industries like education, healthcare, retail, e-commerce, government, manufacturing, travel and transportation, communication and media, banking and finance, etc. 
Core services- Digital transformation, Data Analytics, AI, Cloud services, Power BI solutions, Consultancy, Microsoft services, Intelligent security, etc. 
Notable customers- Maryland, Microsoft, Zebpay, First Bank, Carrier, Allstate, County of Fairfax, Virginia, Ampere, and more. 
7. Binary Republik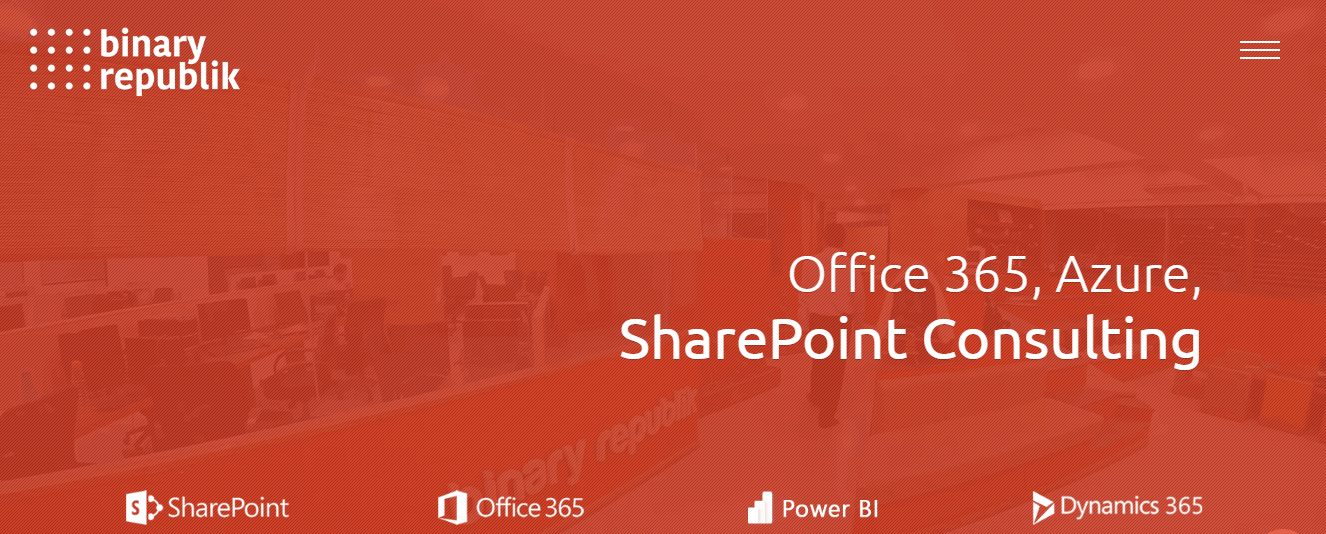 Binary Republik is a leading Power BI software development company that offers quality software and business intelligence solutions for different industries. The company was established around 2009 and is serving thousands of companies in different parts of the world.
Binary Republik offers quality Power BI services with various Power BI solutions like free, embedded, premium, and report development.
They provide their analytic and business intelligence services by partnering with Microsoft, SharePoint, Delve, OneDrive, Umbraco, K2, and KwizCom. 
Core services- App development, CMS, SharePoint, SharePoint migration, Business Intelligence, Office 365. 
Notable customers- South Jersey Healthcare, ZS Pharm, Blythedale Children Hospital, Florence & Hutcheson, GlobalSummit, Benjamin Moore & Co.
8. Integrate.io 
Integrate.io is a Microsoft Power Bi Consultant company located in San Francisco. It is a no-code data pipeline Platform. The platform aims to provide complete data and digital transformation services under one roof.
The company offers full data services and helps users to transform their data warehouse into a data Platform with ETL and Reverse ETL services.
Integrate.io offers quality data and software-based services, partnering with leading technology forces such as Microsoft, Snowflake, Salesforce, Shopify, Hubspot, Klavyio, Bigcommerce, Amazon Redshift, and RestAPI.
They offer a wider range of data services, including Data Management, ELT, Big Data, Data warehousing, data processing, CDC, Business intelligence, and more. 
Core services- ELT, ETL, CDC, reverse ETL and ELT, Business intelligence, API generation, observability Platform, Data integration, data warehousing, data processing, data management, data analysis, Big data, etc. 
Notable customers-   The Motley Fool, Philip Morris International, Deloitte, Samsung, goPuff, and Macdonalds. 
9. Blue Orbit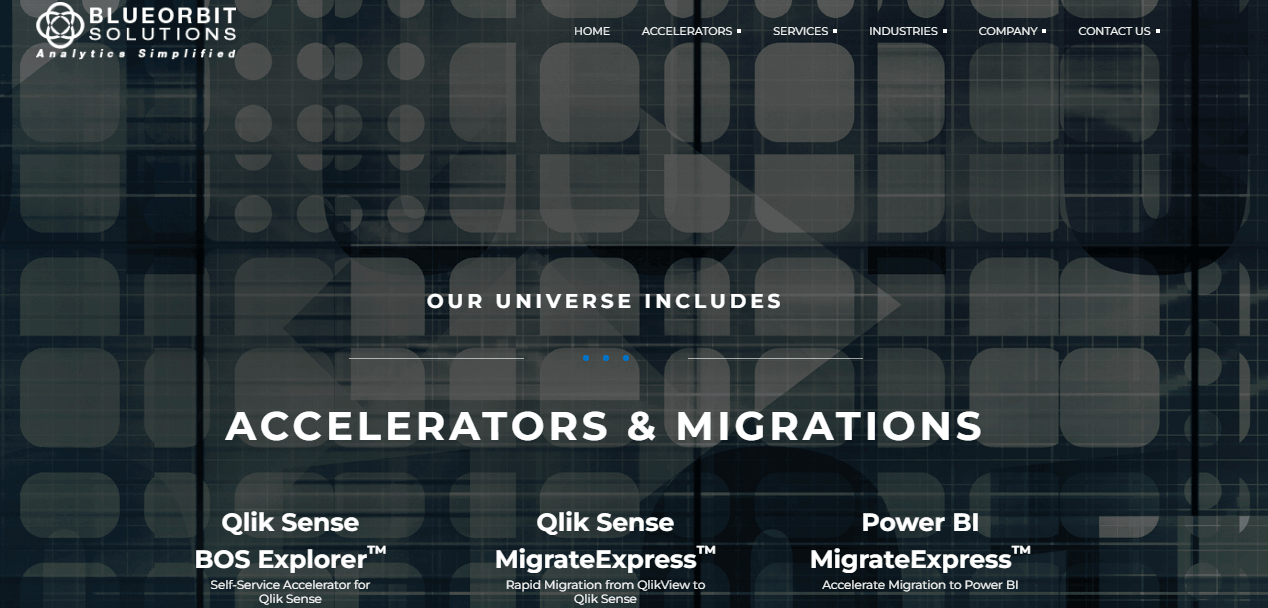 Blue Orbit is also among the top Power Bi app development companies globally. The company is situated in Bridgewater, NJ, USA.
Blue Orbit is a data and software development company primarily focusing on developing futuristic and cutting-edge software solutions for different industries.
They have highly dedicated and experienced developers who strictly maintain Microsoft Power protocols and best practices in their projects.
They offer high-quality data services with Qulik, Microsoft Power, and Tableau. They offer various services, including metadata, Data governance, Qulik, business intelligence, BI migration, enterprise reporting and analysis, data integration and ELT. 
Core services- Data services, business intelligence, digital transformation, ELT, enterprise reporting and analysis, tableau, and more.
Notable customers-  HBO, Pfizer, HSBC, Anthem, Tiffany, etc.
10. Collectiv 
Collectiv Power BI is a full-service company that offers quality power BI consulting services and solutions for its clients.
It is a Chicago-based company with 200+ highly skilled and dedicated team members.
They have been working in the IT industry for a long time and have earned the trust of thousands of customers for their Power BI solutions. Collectiv ranks #1 as the consulting provider on the G2 for Business Intelligence and Power BI.
They provide data and software development services nationwide, like business intelligence, data analytics, power BI consulting, planning, implementation, and maintenance. In addition, they also provide power apps, Platform consulting, and budgeting. 
Core services include power BI, data analytics, data warehouse, Power Virtual, Power Automate, Microsoft development, azure, etc. 
Role and Responsibilities of Power BI Consulting Company
Power BI consulting companies play a crucial role in your entire journey of integrating Power BI into your business and managing it without difficulty.
Therefore, when you want to incorporate Power BI in your business or seek a professional Power BI development company, you must learn about their role and responsibilities to ensure you do not miss out on anything you deserve. Here are the key roles and responsibilities of top BI companies–
Research, study, and analyze business needs regarding business intelligence or BI services. 

Map and design data models to transform raw and unrelated data into meaningful and actionable insights. 

Uses Power BI software tools to create dynamic, intuitive, and interactive dashboards and reports. 

Identify appropriate objective-based performance indicators. 

Analyze both historical and present-day data to increase accuracy in the decision-making process. 

Transform business needs into tech solutions.

Build dynamic data models and create data documentation, algorithm, and models.

Perform multiple and detailed tests and analyses on every deployed Power BI script. 

Perform DAX queries and utilizes Power BI for solutions.

Illustrate and design new and customized systems. 

Takes into consideration developing/building the data warehouse. 

They are also responsible for making essential strategic and technical changes in the present or existing business intelligence systems and improvising them if needed.

Figure out business needs and create custom charts for clients according to them. 

They also perform SQL queries for more accurate and effective results. 
However, you must remember that the list of roles and responsibilities we have shared above is a general role and responsibility of Power BI app development companies.
Some of the pointers can differ from one company to another depending on their services. So, cross-check your Power BI development company's role and responsibilities before hiring them. 
How to choose right PowerBI Consulting Company?
Choosing the best Microsoft Power BI Consultant is your first and most vital step in integrating the right and most suitable Power BI solutions in your business.
Power BI is a powerful and productive business intelligence software that can transform your overall BI tasks.
However, you can maximize your investment in Power BI when choosing the right BI service provider. And below are some tips for choosing the right consulting company –
Knowledge about Power BI

– A Power BI consulting agency must have in-depth knowledge about Power BI solutions and related subjects like the implementation process, possible difficulties, and their solutions. And if a consultancy fails to answer your quarries or seems to have a superficial knowledge about it, you must avoid them.

Experience

–

Top-rated Power BI app developers

will have years of experience working in the field and have gathered plenty of experience providing BI solutions for various businesses. So, choosing an experienced developer for quality service will be wise.

Previous work samples/portfolio

– Checking previous work samples is also a great way to ensure you hire the right company for your Power BI services. So, make sure you choose a company with a dynamic portfolio with unique and exciting solutions. 

Industry knowledge

– Another essential factor you must consider while choosing the best agency for power BI solutions is their knowledge about your industry.

When you choose a power BI consulting company with relevant industry experience (who have worked for the same industry as yours), they can understand your concern and requirements and bring accurate solutions. 

Customer's review

– Reading clients' reviews about their service and overall capabilities is essential before hiring a Power BI company. This will help you determine which company is more productive and can bring the best solution for you. Always pick a consultancy with higher reviews and ratings. 

Transparency

– Many power BI app developers working in the market is not transparent with their work procedure and may create unwanted problems in the future. So, always ask about their work process and how they plan to communicate their progress and update you on the project status. 

Budget

– last but not least, budget is also a vital factor to consider while choosing the best Power BI consulting companies for your business. You must set your budget and choose a service provider who can offer quality BI solutions at a reasonable price that also easily fits your budget.
Why Microsoft Power BI is Best Business Intelligence Tool?
Power BI is a cutting-edge business intelligence software created by Microsoft. There are many other BI software exists in the market; however, the popularity of Microsoft Power BI solutions is remarkably high.
Below, we will discuss some fundamental reasons why Microsoft Power BI is the best business intelligence tool. 
Easy to learn 

The most crucial reason why most businesses and BI consulting companies choose Microsoft Power BI as the best BI tool is it is easy to learn. Users do not need to know much about technology to learn about it. 

Ease of use

Another important reason that makes it ideal as a BI tool is its ease of use. Power BI solutions are intuitive and user-friendly; users can quickly adapt them with minimal training. 

Cost-effective

It is also one of the most budget-friendly and powerful tools in BI. It has various free, embedded, premium, and report development versions to match different business budgets. 

Powerful features

Another crucial reason Microsoft Power BI is the best business intelligence software is its powerful tools. For instance, it has a feature-rich dashboard and gets an automatic monthly update, making it increasingly better with time. 

Wide data source

Power BI encompasses entire Microsoft data, a massive data pool worldwide. And thus, the tool never lacks data essential for business intelligence tasks. In addition, it also has additional data sources like GitHub, IBM Netezza, PostgreSQL database, SAP HANA, Sybase database, Amazon Redshift, Azure SQL Database, MySQL database, SQL Server database, Oracle database, IBM Informix, Microsoft Excel, IBM DB2 database, MailChimp, etc. 
Conclusion
BI, or business intelligence, is an automated process of gathering, managing, and regulating business data to generate meaningful insights.
Also, business intelligence is essential to business operations, especially the decision-making process. And power BI solutions are crafted with the Power of Microsoft's cutting-edge technologies, making it an ideal option for all kinds of business industries.
here, we have listed the top 10 power BI companies that offer quality BI solutions. Also, we have shared some other essential details, such as why Power BI is best for BI and how to choose the suitable Power BI consulting company for your business.