Since the beginning of E-learning, online education has gained momentum among executives, college students, and school students. According to Forbes global online E-learning market is expected to reach $325 billion by 2025.
As online education is in trend, many big organizations are urged to develop a reliable, secure, and stable online E-learning platform of their own like Indeed, Monster, Udemy, or Coursera.
Udemy has invested millions of dollars into the Udemy app and website and continues to do so. Does that mean to launch an online E-learning app or website, you need a few million dollars? Of course, it doesn't.
This post will share different factors to consider before developing an online E-learning website like cost, benefits of developing, features, monetization models, and other related aspects.
Global E-learning Market Size
Statista stated that the global online E-learning market was sized at around 101 billion U.S. dollars in 2019, and the learning management system market generated approximately 18 billion U.S. dollars. The total market for online E-learning across the globe is prophesied to grow exponentially, reaching over 370 billion U.S. dollars by 2026.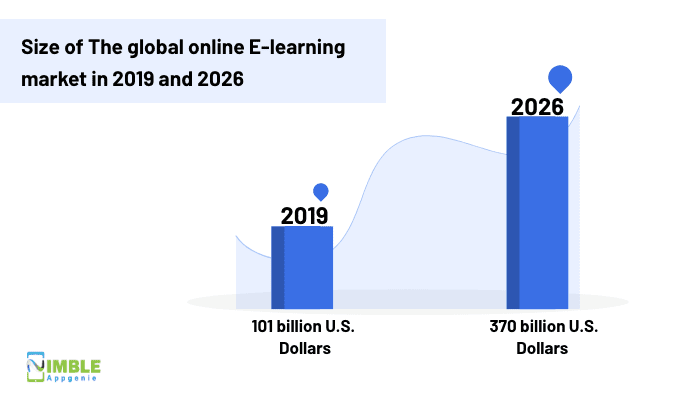 Online E-learning App Development Cost
The development of the app depends on the number of man-hours required. The cost or resources per hour differs according to the company region. Developing a basic online E-learning platform will cost around $25,000 to $50,000, and with advanced features will cost approximately $75,000 to $100,000. Companies in Europe charge approx $130 per hour, in Australia approx. $190 per hour, and in North America approx. $150 per hour.
Why Do We Need an Online E-learning platform?
Many schools want to teach their students, and several small businesses want to train their employees, and any pre-customized online E-learning platforms can do all these types of activities. The purpose of a successful online E-learning platform is to create a robust and interesting learning experience that is as good as the classroom.
It also offers traditional classroom characteristics like instructor-student interaction, discussion, games, collaborative projects, quizzes, etc. It makes learning fun and addictive.
Benefits of the Online E-learning platform
It provides flexibility to learners; anyone with a reliable internet connection can learn from an online E-learning platform anywhere in the world.
Learners can access modules and programs at any place according to their preferred time via using a mobile phone, tablet, or desktop.
Online E-learning websites and apps ensure a consistent learning experience, and learners enjoy engaging with a range of media like audio, videos, puzzles, quizzes, and learning games.
Features of Online E-learning Platform
1. User-Friendly and Intuitive Interface
Your online E-learning platform should be designed with the learner's experience in mind. They should be able to log on quickly through one-step sign-on, find learning resources within just a few clicks, easily navigate themselves around the site, and be engaged throughout the entire process.
When considering which online e-learning platform is best for you, you should take a trial of several platforms as a completely new user and see how quickly and easily you can find and access the resources that you require – without any step-by-step instructions as an aid.
2. Responsive Design
Not all users use online E-learning platforms during working hours and on a desktop, so your online E-learning platform should have a responsive design and flexibility that allows learners to log on at any time, from any device.
Responsive design enables entire content to be equally accessible on tablets, mobile, and computer screens. So, make sure that you test the platform's responsiveness and ability to support every screen size. This is needed to provide efficiency and flexibility to the users.
3. Gamification
If you integrate Gamification into your online E-learning platform, it can provide big results. It takes the elements of games and uses them to motivate, engage, and train simultaneously. Gamification makes learning addictive and fun for learners.
It is one of the most popular features of online E-learning websites, although a few years ago, it was considered superficial for the education industry. But now, it is recognized that students find it motivating and interesting, which is necessary for online learning portals.
To implement Gamification into your online E-learning portal, you have to introduce premium content that can only be unlocked by obtaining specific achievements and a series of achievement badges. This approach to Gamification will surely increase your student's attention and dedication towards the curriculum for adult learners.
4. Robust Search Functionality
Online E-learning websites should have a search engine for the users to access the content that they are looking for. Whenever users visit a website to find relevant information on a very precise topic, they expect to see a search box to find content quickly.
No one wants to spend hours searching for what they want. If you do not have a search box on your website and a user came and looked for something and didn't find it quickly, they will bounce back from your website.
So, having advanced search functionality is very important; only then can you stop your users from bouncing back. You should ensure that the learners can get answers to most of their questions related to the subjects.
Monetization Model of Online E-learning Platform
1. Subscription Model
One of the common and most basic methods of monetizing your education videos is implementing a subscription business model. As the name suggests, subscriptions include paying a normal monthly fee in return for access to a content video library.
Individuals can have full access to the video material by subscribing to a certain recurring fee. Subscribers are commonly charged monthly or yearly, depending on the frequency of content distribution.
In an educational context, subscriptions offer a much better chance for users who are willing to study several courses simultaneously. Furthermore, the subscription monetization model has different challenges, like reducing the churn rate and growing the MRR (monthly recurring revenue).
The amount of revenue that your business makes in a month is known as Monthly Recurring revenue. To ensure the growth of your MRR, you need to take care of your users; they should not leave or cancel their subscriptions.
2. Pay-Per-Course Model
Pay-per-course is video monetization when the viewer pays a single fee for each video they'd like to watch. Most content creators accept this model across the globe. This model is also called transactional, and it's easy to understand and use.
Pay-per-course is often the most appropriate model, especially when viewers are looking for individual courses or bite-sized chunks of learning.
As a result, customers are charged differently, depending on the type of product or service used and the time spent using it. But, in general, it is an extremely fair way of treating those who use a service casually and can pay as they go, which makes it useful, affordable, and practical.
Conclusion
Now you understand the features, need, benefits, and monetization models that influence the cost. According to the trend and customer behavior, you can either add or remove features from your initial education app development plan. It increases or reduces the cost of developing an onsite E-learning platform.
If you are confident that your ideas tap into a market gap, you should build your online E-learning website. Also, if you think that you need support in validating your idea, you can approach a professional education app development company, which will help polish your concept and assist with your app development.