Looking for a good image to text extractor? Let's help you find it.
An image to text converter is a very convenient tool. Freelance experts have a dire need of them, as it allows them to efficiently use text that's not editable, or unavailable in digital/editable format.
So, let's dive in and find out the top 5 image to text extractors a freelancer can use today.
1. Image to Text
Imagetotext.info is one of the leading image to text converters today. It's not only ideal for freelancers, but anyone who wishes to use an online tool to get text from image. This outstanding tool offers a very attractive design, which makes it very easy to use.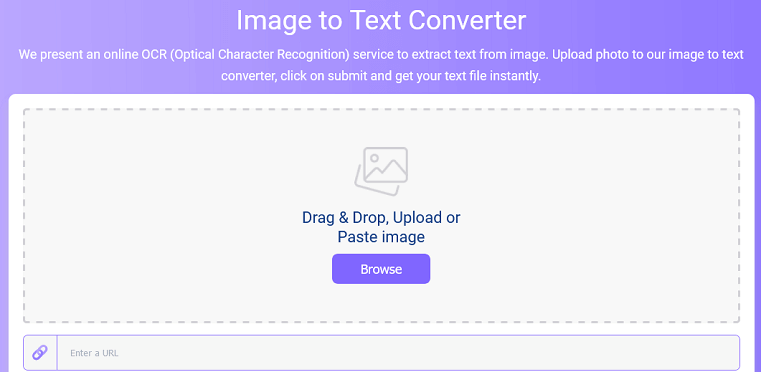 You can upload the image, drag and drop it, or you can also copy and paste the URL into the bar at the bottom.
These factors make it very convenient and easy to use. Not only because of its ability to convert images to text, but also its quickness.
Pros-
Easy to use
Easy on the eyes
Supports various languages
Supports PDF to text/word
Cons-
2. OCRConvert
OCRConvert.com is another stellar option for freelancers. Considering this tool also offers a variety of options, it's one of the best choices for anyone who wishes to convert images into editable text. Besides that, the tool offers a simple conversion method.

The two options you have are file upload or URL method. Once you input either one of them, you can select the language and desired output. Which then takes a minute or two before the converted text is presented to you. The bottom line is, it's a convenient and efficient tool.
Pros-
Two upload methods
Various supported languages
Easy to use
Cons-
Doesn't support multiple images at once
3. I2ocr
i2ocr.com's free online OCR is one of the best image to text extractors for multiple languages. It allows you to convert files containing text to other languages. You can upload images in JPEGs, PNGs, and PDF formats.

Besides that, it's exceedingly quick and doesn't take time to convert images. Moreover, you can also upload the image by providing the URL leading to it. It is available for free and does not require any upfront registration.
Pros-
Supports various languages
Supports PNG and PDFs
Cons-
No multiple files support
4. PDF2Go
PDF2Go.com's PDF to Text converter might be focused towards PDF files, but it can convert JPEG images equally well. It's an easy tool, and one of the only ones that supports file import from Google Drive or Dropbox—something very convenient for freelancers.

Now, it comes down to the usage and amount required, but it does support PDF files with multiple images. On the other hand, you can upload only one image at a time. So, if you wish to convert various images, make sure they're in the PDF format.
Pros-
Convert PDFs easily
Separates various images within a PDF
Cons-
Doesn't convert various images at once (only PDF)
5. Branah.com
Branah.com's image to Text converter is another remarkable option, and something exceedingly easy for users. For freelancers, it's particularly convenient, because it's the only tool that offers JPG, PNG, and GIF files.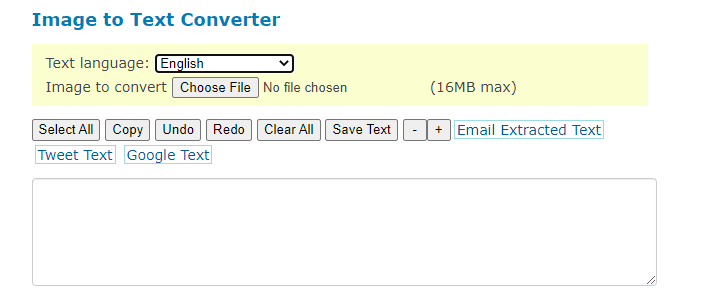 While most freelancers wouldn't care about it, some would find it very convenient. Besides that, it also lets you convert image to text in multiple languages. After conversion, it also allows one to edit the extracted text. The maximum you can upload is an image of 16MB.
Pros-
Simple conversion method
Multiple language support
16MB file supported
Cons-
No PDF support
Doesn't support multiple files
Conclusion
These are some of the best OCR tools that a freelancer can use today. All of these tools can help you get text from image easily.
Hence, these tools aren't only ideal for their convenience, but also for their extensive free usage.