The retail industry is booming with increased sales and customers every year. Huge amounts of data are created after retail sales. However, these data cannot be collected through traditional systems and analytical tools. 
This is Where Big Data comes in.
Allied Market Research outlined in their report that the global big data analytics in retail market is estimated to grow to $25.56 billion by 2028. The report is based on the analysis of the competitive scenario and current market trends. With such a huge volume of transactions going on. The advantages of big data analytics will have a significant impact on the e-commerce industry.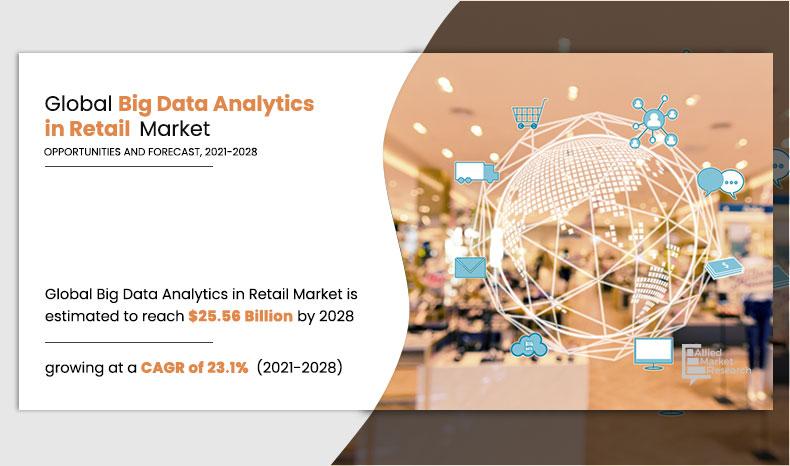 Big Data provides the required methodologies to collect and organize information from different sources. And it also provides broader and deeper insights into various factors of planning.  
The Advantages of Big Data in Ecommerce
A better understanding of customers.

Data-driven supply chain and logistics.

Risks and fraud prevention.

Smarter recommendations for product pricing.

Agile sales & marketing.
Some of the common ways the e-commerce industry is using data science are discussed below.
Big Data is redefining the methods of managing warehouses with static reports that take a long time to generate. Organizations are utilizing measured and documented approaches to collect and synthesize data from disparate sources at once. Every product in the warehouse can be documented so as to determine how to palletize them to maximize the space on a trailer. 
Big data in eCommerce has transformed data analytics from a lengthy process to a widely accepted process that is used to improve retail, volatility in costs, supply chain disruptions, and variability in demand.
As a result, retailers are increasingly looking to implement decision-making driven by big data to identify customer behavior, determine optimal pricing for products, and better manage supply chain operations to optimize inventory, shipping and logistics.
Retailers are using big data-enabled devices to monitor customers' buying behavior, analyze traffic on the web store, track products in the warehouse, and monitor out-of-stock inventory. 
For example, Walmart processes 2.5 petabytes of data an hour using big data analytics for inventory, pricing, and supply chain management. They have streamlined over 200 streams of transactional data that can be visualized, analyzed, and manipulated. With this internal and external data, Walmart teams from any part of the business can bring their problems to the experts to seek a solution.
This big data analytics has cut down the amount of time it takes to solve complex business questions, which are reliant on multiple external and internal variables. 
In addition, the retail service leader Amazon uses big data analytics to predict customer interests, reviews, clicks, searches, shopping preferences, and other aspects.
Brands are using recommendation systems based on behavioral data to know about what services and products to offer.
Branding is also powered by big data analytics. Ads are optimized for clicks and displayed according to specific user behavioral metrics.
Using big data to mitigate potential risks in the supply chain has been particularly in demand. For example, it helps identify supply shortages and surge in demands due to unexpected natural disasters, odd weather conditions, or pandemic-induced lockdown.
Big data in eCommerce helps supply chain and logistics firms to understand how best to apply limited resources to mitigate these evolving risks.
A lot of large brands like The Procter & Gamble Company and Unilever are investing in Big Data eCommerce to enable more personalized experiences for consumers. Through this implementation, P&G will now be ready to innovate products for its consumers.
5 Advantages of Big Data in eCommerce
Organizations are investing in big data analytics. It is one of the main aspects of running an eCommerce business. But what exactly are the advantages of big data, and how do you use it? 
Knowing Your Customers
Do you know your customers? The sales and marketing data can give you a lot of information about your customers. Big data provides valuable insights into customer behavior, and what products are gaining momentum.
While big data is incredibly useful for understanding your customers, it isn't the whole story. Personas are also one of the main characteristics that represent various segments of your customer base. Understanding customer personas can be very helpful in targeting advertising campaigns and marketing messages.
These characteristics contain information based on demographics, age, gender, family status, employment, average income, and so on.
Retail businesses can learn a lot about their customer bases by using big data. It defines your most valuable customers who spend the most money on your store. Big data helps calculate several factors about your buyers.
Once you have information about customer personas, you can calculate how much your customers spend on a particular product. Big data not only look at this by each persona but also takes into consideration the fact that people buy based on quality, not solely on price. 
The lifetime metrics tell about the relationship you have with your customers. Additionally, how much you've spent on marketing and sales to get this type of customer can be analyzed through acquisition methods.
What do your customers need from you in order to stay on your site? If they need some kind of support service or communication, it will cost you more to retain them. Make sure that your customers are happy with your products and feel valued.
Big data will help refine groups of satisfied and unsatisfied customers and refine customer personas based on expectations and what actually they're buying from you. Also if some of the customers are visiting your site but not buying from you, then who are they? This can be identified with big data for a better understanding of customers' preferences.
In summary, by making use of big data analytics, eCommerce companies can find new ways to understand their customers and optimize business results.
Streamlining Supply Chain and Logistics
Big data provides large volumes of information from multiple internal and external touchpoints of an organization.  This data provides valuable insights into the operational efficiency of an organization.
Having big data implemented in your organization with defined objectives in focus helps plan adequately for better execution of supply chain systems. Every business wants to know the aspects of proper planning for supply chain and logistics.
However, this is quite challenging due to the lack of information and other variables like consumer behavior, weather condition, and other economic factors. 
Big data has the potential to aggregate demand forecasting that is more accurate for objective analysis of supply chain optimization. In other words, the supply chain can be improved by analyzing actual demand and dead stock. 
Big data systems provide real-time information on all movements of delivery vehicles that generate alerts when any shipment is due to arrive or off schedule. Plus, big data tools consist of order processing, warehouse management, inventory management, and many more tools for analytics and intervention.
Retailers will work better and plan well if they work with the IoT, combined with big data analytics for a strategic review. This system promotes optimization across the supply chain. Each category can be analyzed for faster decision-making, leading to greater profit. 
The RFIs survey tools are based on big data and can help optimize supply chain management by assessing quantities and supply chain timelines. The big data also indicates what other suppliers are offering and procuring that gives you the power of knowledge.
And makes it easier to plan for exact quantities of items to sell. Data processed from GPS trackers can help you plan optimal routes and delivery time slots. 
The big data trend is still flourishing, and re-structuring supply chains for streamlined and efficient yields. Simply put, when you implement big data in supply chains, you'll know what works and what doesn't work.
E-commerce Risks and Fraud Prevention 
The fraud level is too high in the digital space, according to the statistics, 54% of consumers have faced any kind of fraudulent actions on the Internet.  Reports and surveys show that e-commerce businesses are vulnerable to online fraud. But big data tools and solutions are there to combat them. 
This is one of the main advantages of big data systems that allow companies to monitor each transaction based on predictive analysis. The same method can be used to detect marketing campaigns and look into risks that could potentially damage the company's reputation. 
In the eCommerce industry, big data risk management works on a powerful risk prediction model for fraud management and cost savings. For example, by implementing big data techniques, Alibaba invents a system for fraud payment prevention system, called CTU (Counter Terrorist Unit) that can track users accounts' and identify suspicious activities based on predictive analytics and intelligent arbitration.
Big data enhances the quality of risk management tools by simulating different scenarios to identify all the potential risks associated with financial transactions. Using big data can help companies to better accommodate the issue of online fraud and risks. This will also give the company a better view of sources that need improvement.
Investing in big data is a key component of overall risk management and best practices for security. By implementing big data into operations, eCommerce organizations can minimize losses and maximize profits.
Big Data Pricing Analytics 
Traditionally marketers relied on in-house data collection techniques to make pricing decisions. No emphasis was made on market trends and customer analytics. Most of the pricing decisions were intuition-based.
With big data, you can accurately make pricing decisions based on customer behavior, demand, and market trends. Thanks to various big data tools that are assisting businesses in learning more about their customers' spending habits and applying the correct pricing strategy to their products. 
There are already many organizations that are using big data-backed pricing strategies to predict which customers will leave their site without purchasing any of the products.
There is a technique called Markdown optimization that helps understand customer purchase behavior based on past trends and suggests the optimal price range and discounts for products while ensuring maximum possible profits.
With big data analytics, the price of a product can also be decided based on factors like purchase behavior, geography, target segment, etc. Thus, the big data techniques can be applied to predict future demands of a product and offer them at competitive pricing.
By using big data for pricing decisions companies can ensure the best possible revenue for their inventories while ensuring their clearance in time.
Driving Sales & Conversion Rate
The term "big data" refers to elements of data-driven decisions that allow marketers to improve online and in-store brand recognition and reduce customer churn. Big data technology has been helping many businesses to be as effective as someone like Amazon and Flipkart, even if you don't have the budget to invest.
The technology helps brands to automate their sales and marketing. And make it more algorithmic that use self-learning models to create more relevant interactions. E-commerce businesses, especially, can use big data to come up with more relevant sales strategies based on customer behavior, customer persona, browsing history, product pricing, brand value, and other factors. 
This data can be used in recommender systems to create a customized homepage or product page for each user based on their preferences, profile, and communication history. This can help increase sales, hence increasing the chance of repeat sales.
E-commerce giants, such as Amazon and Walmart, have applied big data analytics platforms to their marketing strategies. This has resulted in an increased amount of data insights, resulting in an increased conversion rate.
Big data also helps businesses to review the top-selling products that have the most demand all over the world or in a certain location. With this wealth of big data, marketers can target the right product to the right customer, thus improving conversions and sales.
Conclusion
Once an organization utilizes big data analytics, it will be able to understand its true benefits in a much better way. This will make it easier for them to connect with their customers and turn interactions into conversions to get ahead of the pack.
Before a quick wrap-up, here's what we have learned about big data in e-commerce. Big data allows e-commerce businesses to know customers better through the analysis of customer persona and behavior analysis.
Big data optimize logistics and supply chain management by giving valuable insights into the operational efficiency of an organization.

Big data analysis can help in strategic fraud mitigation and offer more secure payment options to digital buyers.

Big data systems also help decide product pricing and discounts with real-time analytics.

With big data analytics, e-commerce companies can enhance their marketing and sales efforts through more personalized offerings, predictive analytics, recommendation systems, and better customer service.
The bottom line is that the businesses applying the big data systems can dig deeper into the insights provided by the data.
With big data technologies, eCommerce organizations can look into customer data that you're collecting on your site that will help your business grow.