Have you ever felt like your employees don't seem engaged at work? You're not alone. It happens to a lot of companies. Unfortunately, sometimes it's a failure on Management's part to accurately assess performance.
Sometimes it's an issue with the company itself. Whatever the case may be, people tend to leave companies frequently these days. Fortunately, technology can offer a way to engage and motivate employees even in the modern era.
Here are five technologies that can help employees remain engaged and succeed at your organization.
Transparency
Technology plays a critical role in increasing transparency at an organization these days. By making important information readily available to all employees at any time, transparency can help ensure everyone collectively works toward the same common goals.
Full transparency and laying out expectations can help reduce corruption or unethical behavior, along with giving employees something to strive toward.
In short, using technology to increase transparency at an organization is an effective way to promote accountability and improve communication among employees.
Employee Recognition Platforms
Another way to increase engagement in an organization is to utilize an employee recognition platform. These are usually software or cloud-based solutions that offer a comprehensive means of giving social recognition to each other throughout the workplace.
This is usually used for accomplishing milestones, celebrating anniversaries, congratulating somebody for a job well done, and even redeeming rewards. Companies who use employee recognition platforms report higher employee satisfaction, more motivation, and better morale across the entire company.
Using employee recognition at your company is the fastest and best method to improve the workplace in general. Happy employees are productive employees. Productive employees are engaged. Engaged employees stick around.
It's almost a domino effect of wonderful things that happen from just a simple platform of recognition and respect
Points-based Rewards
Another great way to leverage technology to improve employee engagement is to offer points-based rewards systems. These are sort of a gamification of your existing rewards system that utilizes accumulated points to redeem for cool rewards.
Rewards are one of those incredibly important, but often overlooked parts of running any kind of recognition or a performance management program. Rewards need to be communicated to the recipient so that they understand the context of the reward and, if you're using a point-based system, the rewards need to be of high-quality.
Financial rewards are great, including bonuses, but they're not the only approach you can take. Offer gift cards, get your tickets, specialty items, company apparel, and anything your employees can use that they can redeem their points to obtain as part of the rewards system.
The reward redemption and delivery mechanism should be intuitive and not difficult for the employees to access. Make it part of your employee recognition and rewards hub so that it's easy to access, intuitive, and can get employees their rewards quickly.
With the right rewards and implementation, you can help your employees perform better and be happier across the entire organization.
Continuous Performance Management
Continuous performance management is an effective technology tool to help keep employees engaged at work. CPM systems help managers to track employee progress and give timely feedback.
This, in turn, helps employees stay focused on their work and contribute more effectively. Additionally, continuous performance management makes it easier for managers to identify any potential issues early on and take corrective action before they become bigger problems.
A big part of the continuous performance management process is planning, monitoring, goal-setting, and providing feedback throughout the process. These are all easily accomplished through various communication tools and video conferencing.
Regular check-ins, meetings, performance evaluations, appraisals, and even disciplinary action can all take place through a good CPM system. When you want to get the most out of your employees, you need to manage their performance as well as their work.
And ultimately comes down to is creating a positive environment through reinforcement, reinforcement, assessment, feedback, and performance management.
Better Onboarding Software
A productive and worthwhile tenure at a company should start with hiring. The onboarding process should be as streamlined and easy as possible for any upcoming employees.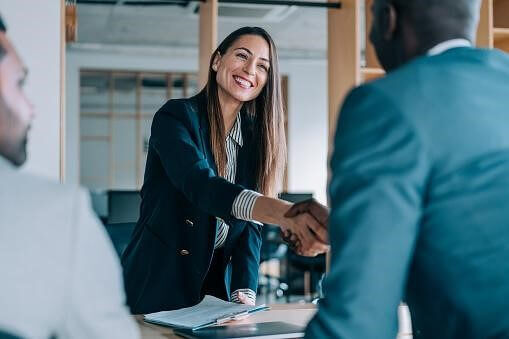 High quality onboarding software helps your employees get started on the right foot with an intuitive and streamlined system. It also can be used to perform certain HR tasks down the line, making it a versatile system as well.
Moreover, onboarding can help with payroll information and ensure your employees get paid on time within the first few weeks of their employment.
By streamlining and making the onboarding process more accessible through technology, you'll be able to improve employee engagement right off the bat instead of struggling with the old methods of bringing somebody onto the team.
This can have a positive overall effect on the employees tenure at your company and ensure high performance throughout.