Managing a woo-commerce website is a difficult task. You need a perfect WordPress Theme, plugins, and a lot of hard work to add products.
Updating and modifying products for a huge inventory can be overwhelming. When you have a small number of products, it is fine. But, what happens when you have hundreds or thousands of products.
Luckily, there are solutions like WooCommerce bulk edit plugins that can perform this task easily.
The default feature of WooCommerce only lets you edit 999 products in a single go, that too with limited editing capabilities.
That is when you need WooCommerce bulk editing plugins to make your life easier. To help you, we have listed the 5 best Woocommerce bulk edit plugins in this post.
If you're looking for an easy way to manage bulk product editing for your store, the YITH WooCommerce bulk product editing tool is a great option!
And the best part?
It offers both free and premium versions.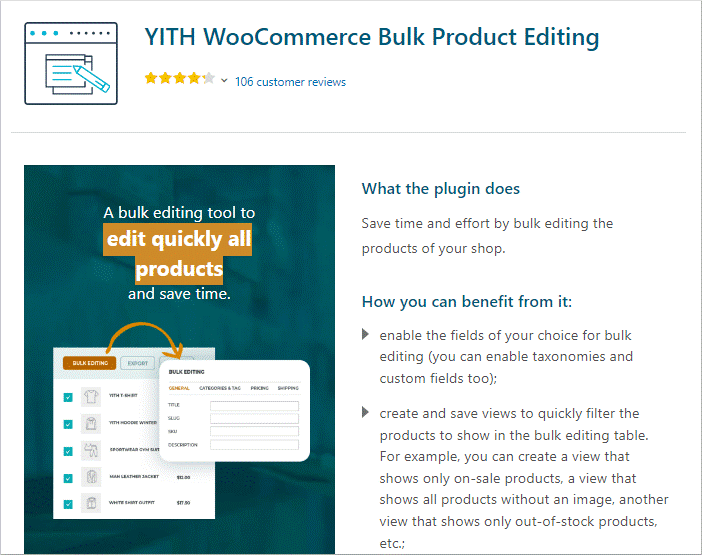 With this handy plugin, you can quickly make changes to multiple products at once, rather than having to edit them one by one.
You'll have the ability to modify existing attributes and even use custom fields for additional changes.
Want to know more about what this plugin can do? Check out some of its most popular features:
Instantly bulk edit product prices
Offers filtering via category, product variations, attributes, price, etc.
Edit all WooCommerce product fields
Lets you create new products from edit page
Allows product exports as CSV files
For those seeking a comprehensive solution to manage both individual and bulk product editing in WooCommerce, look no further than this plugin.
Available at CodeCanyon, this plugin's intuitive functionality enables you to filter products and make relevant changes effortlessly.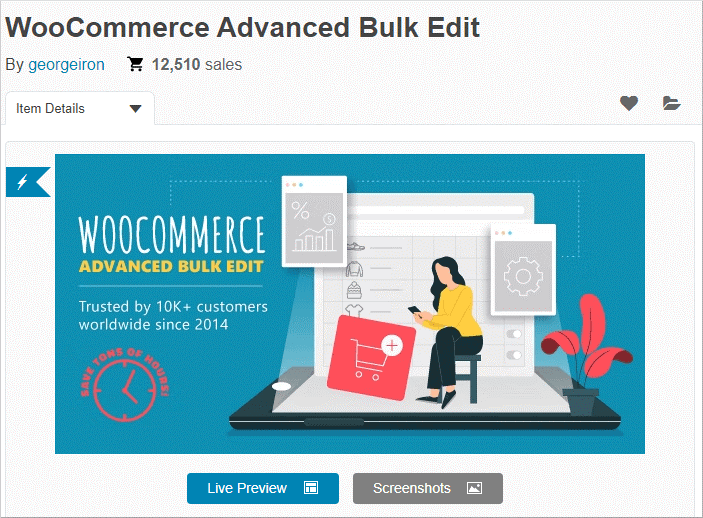 Furthermore, this plugin also allows you to modify product images in addition to editing product information. The user-friendly interface ensures a seamless experience and streamlines the editing process.
An exceptional feature of this plugin that I particularly appreciate is its ability to allow multiple changes to be made and saved upon completion. With edits only taking effect after saving.
It permits experimentation and the ability to try out different patterns before finalizing changes.
Additionally, this plugin boasts a solid track record, having been first released in 2014 and updated regularly since then.
With over 11,000 sales and an impressive 4.86 rating from more than 500 reviews, on Code Canyon, it is a dependable choice for your WooCommerce website.
Following are the highlights of this plugin
Very easily edit product fields
Create simple and variable products with multiple categories and attributes
Edit al meta fields via the meta field option
Comprehensive filtering options
At one time you can edit as many products as you like
It's perfect for making bulk edits to your WooCommerce products, orders, and coupons, and it has a beautiful fullscreen table design with a stylish interface that you'll love.
With Bulky, you can edit hundreds of products at once and it supports 43 different product fields out of the box, as well as custom fields.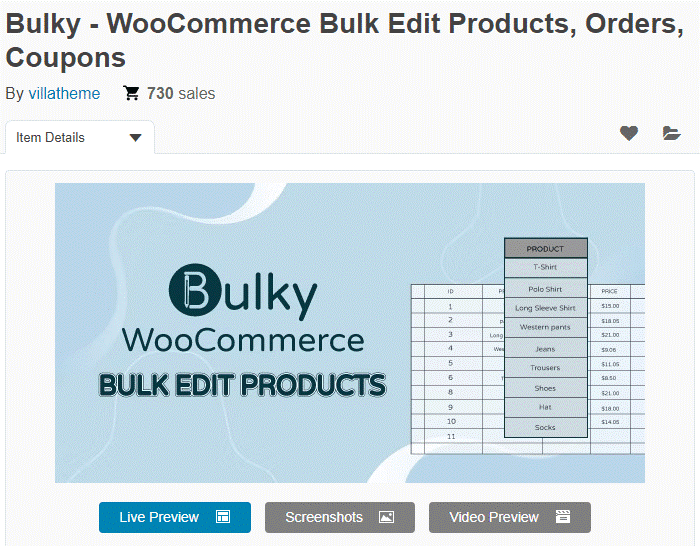 When making edits, Bulky adapts to your needs and lets you set a new title for all your products, append new text to the end, or prepend new text to the beginning.
It also includes other useful controls like duplicating, copying, and pasting, and even lets you open the product edit pages.
One of the best things about this plugin is that it saves your editing history, which means you can easily reverse prior changes made in bulk. It's a real lifesaver!
Plus, Bulky is one of the only plugins that lets you bulk edit WooCommerce orders. Most bulk editing plugins only work with products, but with Bulky, you can also mass edit your orders and coupons too.
Bulky's advanced filtering and editing tools make it a breeze to mass update your WooCommerce products, orders, and coupons. And the best part? It's very affordable, so it's a great option for many stores.
Other highlights of Bulky plugin
Use the Search tool to find fields to edit quickly.
Load variations option available.
Filter orders by ID, Title, Regular price, Sale price, SKU, and other fields.
Save Filter button to save all your settings when reloading the page.
Bulk edit Custom meta fields from third-party plugins supported.
Edit all recorded history
This plugin is simply fantastic, and it's one of my all-time favorite interactive bulk editors.
It's similar to many others in this category, as it's a spreadsheet that's integrated right into WooCommerce, but with product-specific features that make it super intuitive for manual interactions.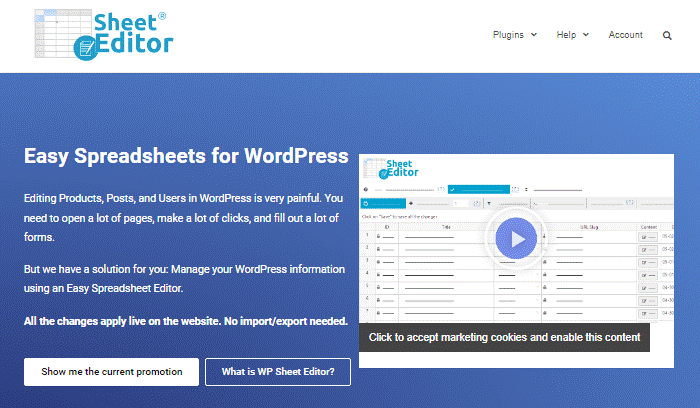 Just install the plugin, and you'll immediately gain access to the spreadsheet-style interface. It's seriously that easy.
Do not think any less about this simple looking plugin. With the paid version of this plugin, you can duplicate products, bulk edit them, and create variations.
The bulk edit feature lets you replace values in any field, increase or decrease product prices or stock values, and apply mathematical formulas to any numeric field.
Very easy to edit WooCommerce products in a spreadsheet
All product fields visible in the spreadsheet
Edit hundreds of products at once
Supports all popular formulas
Upload images in bulk
Manage Inventory in few clicks
Allows advanced searches in the spreadsheets
This plugin is a simple and easy-to-use WooCommerce bulk edit plugin that works swiftly with innumerable products in your store.
It's intuitive, fast, and even lets you create new variations for your store. Plus, it lets you filter products based on whether a field is empty or filled.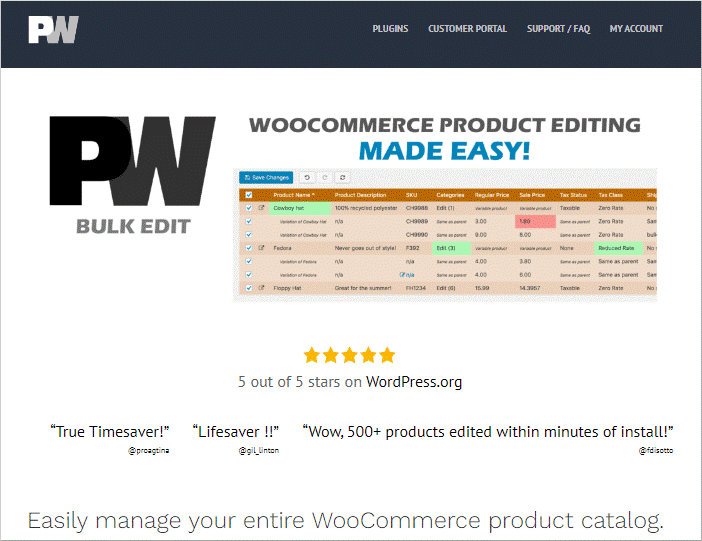 But that's not all! It's also compatible with a list of third-party plugins. So, if you want to streamline your WooCommerce store and make it more efficient, this plugin is a must-have.
Get it now and dominate the eCommerce game!
Efficiently handles product variations
Convenient to use on your WooCommerce store
Allows undoing changes in case of errors
Can update sale price based on regular price, making it easy to edit product prices
Can modify images in bulk
Supports regular expressions for searching and replacing options
Conclusion
These were all the 5 WooCommerce bulk edit plugins that we like and would recommend to all. So, when it comes to choosing a plugin, it depends on what you want for your Ecommerce store and how you like to edit stuff. It's all about finding the right fit for your online store.