The healthcare industry is rapidly expanding, and its quality is improving with technology's help. The time had gone by when there were only limited medical facilities available.
Now, with a click, you can book an appointment with the doctor, book a lab test, get a prescription from the doctor, and more.
Multiple software and mobile apps are available to ease patients' lives, and credit goes to healthcare app development companies.
If you want to start a business, healthcare is one of the best options. You can opt for any solution, such as a telemedicine app, mHealth app, Medicine delivery app, or more.
However, you need extensive expertise to develop these. The better idea is to hire experts from genuine mobile app development companies that deal in healthcare and medicine.
If your question is – What are the top -10 healthcare app development companies to hire? Then you can find your answer in this blog. Here we have created a list of the top -10 companies you can choose for a perfect solution.
List of Best-10 Healthcare Development Companies For App development
From the information point of view here, we have curated the list of the best companies that can assist you in having a perfect healthcare app or software for business.
All these have recognition on the global level. So, let's start reading the list.
#1. Geomotiv
Geomotiv is a well-known company that deals in healthcare app development and successfully delivers healthcare solutions to its global clients. They have an experienced team with expertise in web development.
Including the latest technology, they also have experience in implementing healthcare apps using AI and machine learning. Their services include custom healthcare software development, Analytics and business intelligence, hospital management system, and more.
Company's Info:
Headquarter: USA
Founded In: 2010
Suppose you need to customize healthcare apps with innovative features and want to reimagine healthcare with tech.
In that case, none other than Arka Software is the best. The company is known for delivering and deploying innovative healthcare mobile apps, medical software, and many more.
The team of mobile app developers is experienced and has hands-on experience in implementing the key trends of digital transformation in healthcare and development of phramcy de.
Having ISO 9001:2015 certification and high-quality standards, you can get a robust and feature-loaded solution for a seamless experience of healthcare mobile/web solutions and software.
Company's Info:
Headquarter: India
Founded In: 2010
#3. Jelvix

Jelvix is the name you would want to notice while reading the list of top-10 healthcare app development companies.
During 11 years, it has served multiple healthcare brands to cater to their specific needs. Its client base is made up of startups and scaled brands.
Under the umbrella of healthcare development services, they deal in customization, cloud storage implementation, analytics, and integration. Besides healthcare, they also provide solutions for fintech, insurance, media, retail, and others.
Company's Info:
Headquarter: Ukraine
Founded In: 2011
#4. Hidden Brains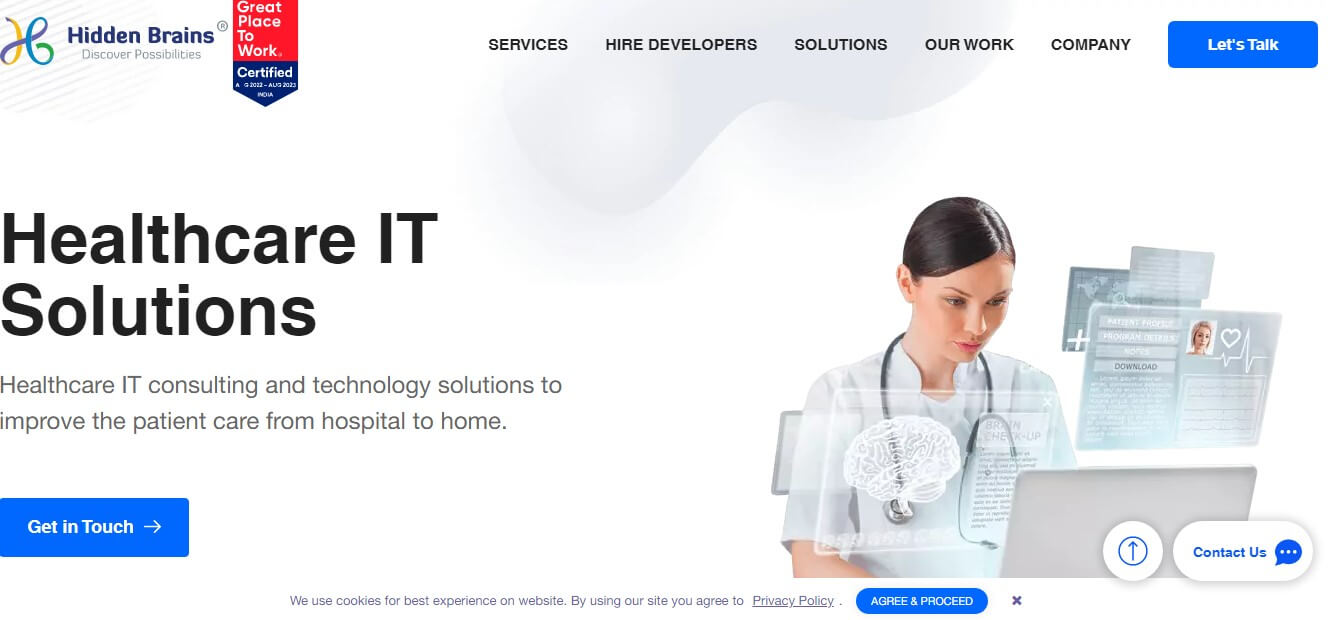 The Hidden Brains have served in the mobile app development industry for the past 20 years, having a command over-delivering innovative healthcare solutions globally.
Hidden Brains deals in developing solutions like hospital management systems, chiropractic solutions, clinical communication systems, and others. Its services are available for small-scale startups the large-sized healthcare businesses.
Company's Info:
Headquarter: India
Founded In: 2003
#5. Miquido

It is a Poland-based healthcare app development company with an excellent client base. Miquido is known for using cutting-edge technology and implementing data-driven solutions.
It is known as an experienced medical software development company with a good history of dealing with multiple projects. The company deals in mHealth app development, health data management, telehealth, and more.
Apart from the healthcare, you can also get solutions for fintech, entertainment, education, and more.
Company's Info:
Headquarter: Poland
Founded In: 2011
#6. ScienceSoft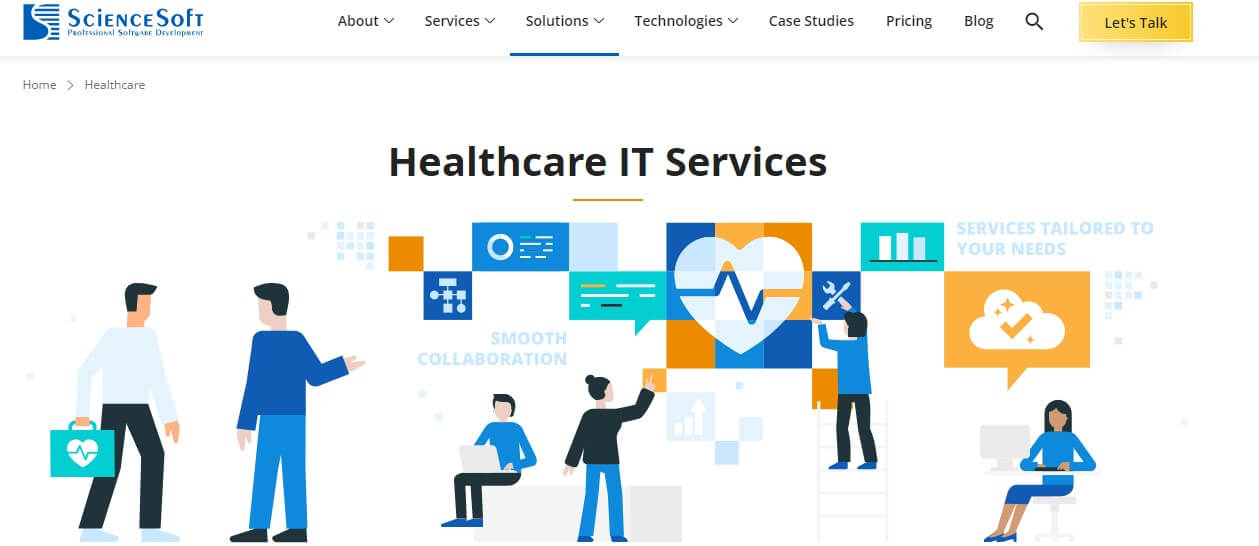 ScienceSoft is one of the top names for considering it to develop a medical or healthcare app. The company is popular for providing innovative mobile apps, web solutions, and software development services.
It has served its clients for over 20 years regarding its healthcare solution requirements. Their team has expertise in developing HIPAA and HITECH-compliant apps.
Having certifications such as ISO 9001 and ISO 27001 make it one of the top healthcare app development companies.
Company's Info:
Headquarter: USA
Founded In: 1989
#7. GlobalLogic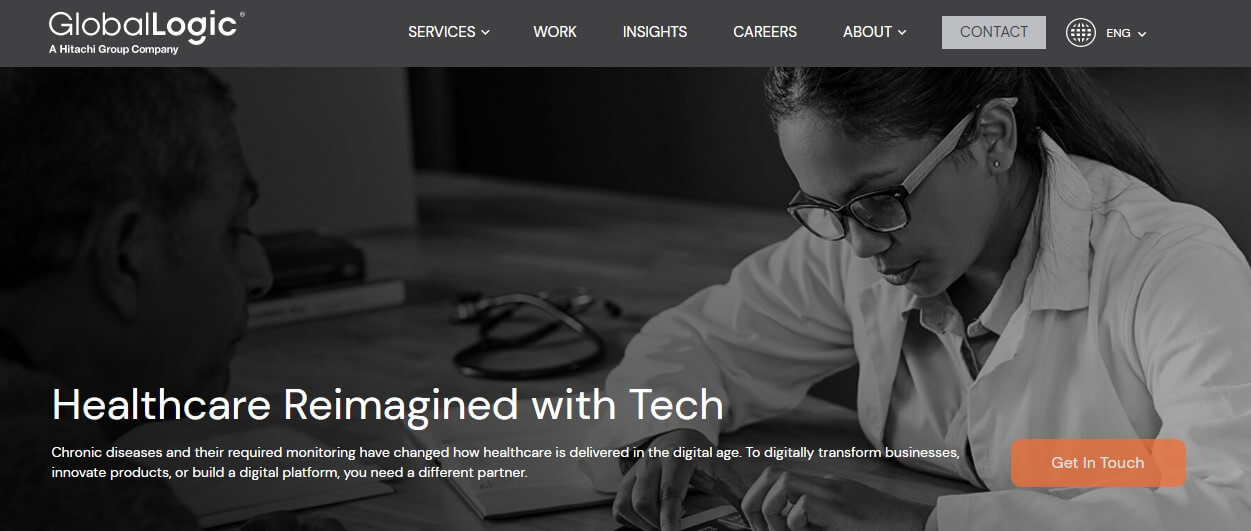 As its name implies, it is one of the top-notch healthcare app development companies that deal with international clients. The company has experience of more than 20 years in developing medical apps/healthcare software following high-quality standards.
Their expertise includes traditional software development to embedded device software development and from digital health platforms to the internet of medical things.
Having a vast range of solutions and a team of industry experts allows them to have a name in top healthcare development companies.
Company's Info:
Headquarter: USA
Founded In: 2000
#8. Luxoft
Although Luxoft is a Romania-based Android development company but has equal expertise in delivering solutions for financial services, travel, automotive, and more; primarily, they deal in healthcare, life sciences, and medical device software development.
Additionally, having an experienced team of mobile app developers is another advantage with them. They serve retail & e-commerce, insurance, manufacturing, and more industries.
Company's Info:
Headquarter: Romania
Founded In: 2000
#9. Cmarix Technolabs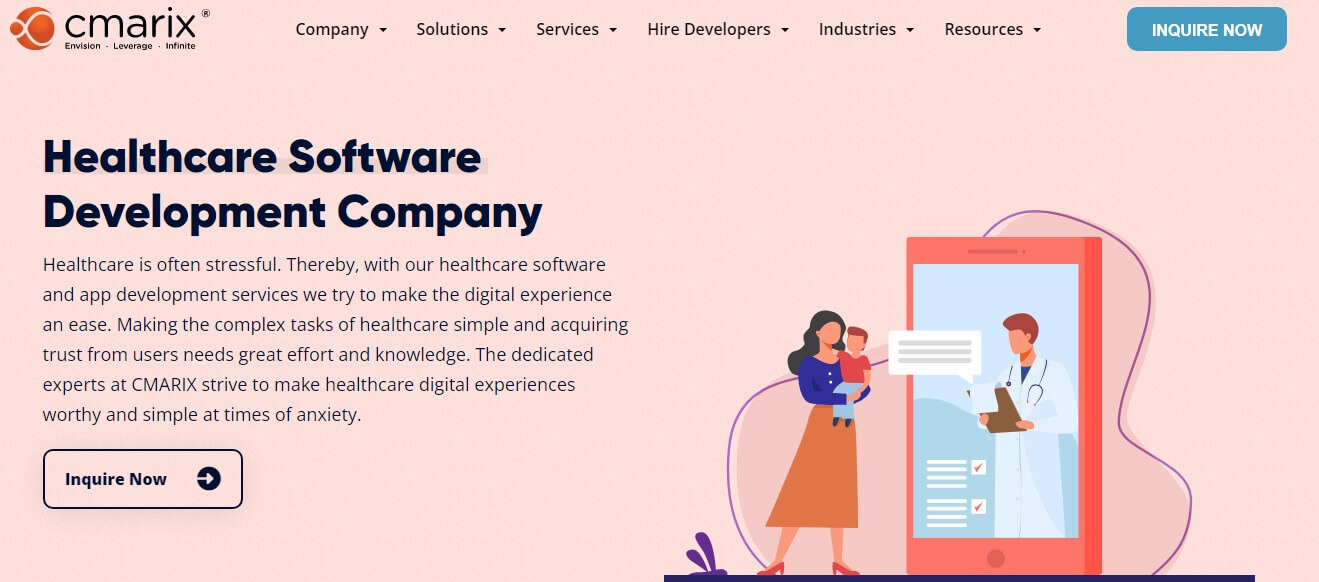 Cmarix is one of the Indian-based healthcare app development companies that has a strong global presence. They have had a presence in the industry for more than ten years.
Another advantage of Cmarix techno-labs is a team of experienced developers who can turn your idea into a healthcare app. From developing desktop software to web apps, they can help you with all types of requirements.
Company's Info:
Headquarter: India
Founded In: 2009
#10. Interexy
Interexy is a USA-based company and is counted as one of the best healthcare and medical app development companies in the world. Its clients' list covers some of the well-known healthcare brands.
Their highly skilled team of mobile app developers ensures quality healthcare solutions that you can leverage for the business.
The company has equal expertise in developing fine-quality mHealth apps and medical web portals.
Company's Info:
Headquarter: USA
Founded In: 2017
How to Hire a Healthcare App Development Company?
Hiring the right technology partner is crucial when you want to offer a unique experience of services and a seamless app that your customers can find easy and interesting to use. Suppose you want to develop a doctor-on-demand mobile app.
It would help if you chose a service provider that must have an appropriate experience in it. Following the right steps can help you to do so which are as follows:
Portfolio & Experience: deeply explore the portfolio of healthcare development companies and try to find out how much experience it has.
Hiring Model: check what kind of hiring model they offer to onboard the experts on the project.
Team of Experts: enquire how many experts they have domain-specific experience with.
Support & Maintenance: check if they provide support & maintenance in case of any issue occurring post-development.
Pricing: check what type of pricing model they follow for an app or software development and what the range is.
Tech Stack: enquire whether they use the latest tech stack or technology to develop healthcare solutions.
If you find the answer satisfactory, then congratulations, you have found the right company to hire for healthcare software or app development.
Final Words
The Healthcare industry is rapidly progressing, and it bloomed after the pandemic due to the high demand for healthcare solutions. Suppose you are also a healthcare brand starving to offer your customers the best services.
In that case, you can turn your business more profitable with the help of an experienced healthcare development company. So, if you are looking for the same, this blog might help you find the right solution provider.
The only point is to avoid being influenced by others, make your own decision and hire the right healthcare service provider after getting all the details.