Customer experience is and now will always remain the priority of all businesses. The reason is simple. The focus on consumer satisfaction reduces the growth fluctuations, resulting in profitability.
Research puts it better:
In simple terms, implementing a consumer experience approach helps businesses enjoy increased user happiness, lower churn, and more revenues.
However, there are seasonal times when demand for goods or services exceeds, also referred to as peak times. Increased demand for business products or services is a good thing. But if consumer needs aren't satisfied on time and in a convenient manner, peak hours can become problematic.
As a result, you need to minimize user agitation, other negative impacts of peak season, and meet customer satisfaction.
Tips to Boost Customer Experience During Peak Season
Let's cover the strategies to improve customer experience and enable the service providers to maintain customer loyalty.
Improve Service Speed
Customers expect immediate responses. Several online retailers have already addressed this desire by implementing consistent shipping options.
Hence, to keep up with the trends and stay ahead of the competitors, the firms must ensure quick fulfillment of the client entails. Also, they need to look for affordable delivery method options that are fast and reliable.
Retailers can consider local shippers for quicker, affordable, and flexible services, improving the shopping experiences with a certain service provider. Additionally, clients will get their requirements fulfilled within the given time frame and at their doorstep, resulting in an enhanced brand reputation.
Utilize CRM Software
If you have an unexpectedly huge number of visitors, it is evident that your waiting queues are longer than usual. In addition, failing to handle these long lines can make clients confused and served improperly.
As a result, CRM technology like queue management system software emerges as a viable option for successfully structuring and managing queues. It cuts down on long waiting times and provides business insights. Also, it helps in accomplishing the aim of speedy service and providing adequate guidance to clients throughout their journey.
Want to know how queue management can help during the season's busiest times?
The features include:
Improves Staff Performance:
It can be used to determine how long it takes to serve clients and where support is lacking. When concerns are identified, employees can easily address them and concentrate on more important duties. As a result, employee productivity will increase.
Acquires Visitor Data:
The information relating to a customer's shopping history with a certain brand is what analytics is all about. To better evaluate the influence on the business, it may include occurrences, patterns, or preferences.
Provides Personalized Services:
Allows visitors to be served depending on their needs, purchasing history, and relationships built.
Hence, instead of making decisions based on perceptions, firms can better utilize the queuing system with all these capabilities. It will assist in providing high-quality services and guiding clients more effectively.
Employees are the grounds of any business. They are the ones who deal with client yellings and annoyance throughout the holiday season. They are, in fact, the ones who communicate with the user one-on-one to ensure that they are satisfied.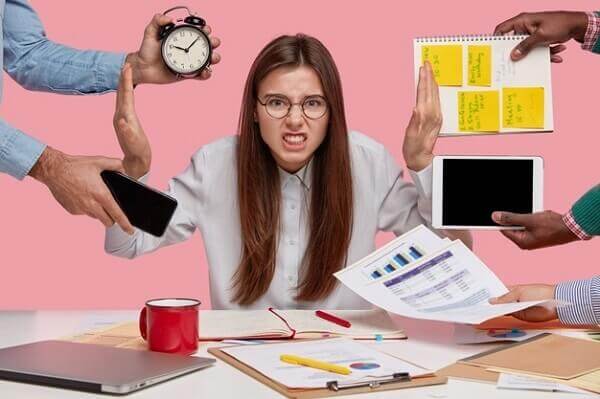 Therefore, informing and training them on difficult tasks and how to assist clients in such times is critical.
Let the workforce know that the holiday season is arriving so they remain prepared and don't get stressed by unexpected rush. Teach your employees the stress management skills to help them get through the busiest seasons of the year.
Also, you can cross-train your employees so that they can assist other team members in overcrowding situations.
Employing seasonal staff is another strategy that retailers can use. This will help in the management of rising store volume.
Overall, by encouraging your staff to focus on attaining an ultimate goal, your brand's image and client loyalty will be secure.
Integrate Omnichannel Model
As previously said, consumer demands are continually increasing, making it harder to stay up. They also expect convenience along with instant services. However, meeting all these requirements in one place during peak times is difficult.
As a result, omnichannel consumer service saves the day. This platform enables brands to build communication in real-time via methods like chat, social media, email, phone calls, and more.
The importance of client communication in achieving satisfaction goals cannot be overlooked.
Customers feel happy when they receive real-time assistance. Furthermore, people get interested in your services or products and interact with your company, resulting in customer retention. This means that the more you provide immediate and relaxed client service, the more your firm will flourish.
Enhance Your Self-Service Solutions
Self-service portals are also crucial in boosting user engagement, addressing their needs, and reducing in-store crowding. As a result, the workload of many staff is reduced.
Nowadays, everyone is aware of customer service and almost all of the items accessible on the market. And if they do have any queries, the businesses can employ self-service portals.
It can comprise video tutorials, guidelines, FAQs, and other resources to help customers who are looking for support.
Clients can access the portal from anywhere at any time to look for answers to their questions.
You will be able to give what your clients require by taking such tiny efforts and implementing new technology and tactics. It will also assist support executives in dealing with stress more effectively during peak seasons.
Uncover the Secrets to Improve Peak-Time Performance
These 5 tips are the most straightforward strategies to boost your brand's offerings while serving customers this holiday season. Focusing on the fundamentals and where the customer experience is failing will keep customers happier than simply promoting best Appsumo deals, discounts or latest offers.
So, implement all of these techniques and tools to strengthen your company's main pillar: Customer Happiness.
Do share your thoughts in the comments section below. Thanks for Reading!!