Many people don't know this, but the UK is considered to have one of the most technologically advanced markets. With its solvency and high penetration, there is a lot of fierce competition when it comes to online spending.
Additionally, the American businesses have developed an advantage thanks to their home market size and quick development within the UK, the British eCommerce has been under the domination of the United States' platforms that have been operating through various segments, such as eBay and Amazon, which are considered one of the biggest eCommerce competitors in the UK.
However, there are still some traditional retailers that have been focusing on specific categories, such as Argos or Tesco that have been able to make a difference in their share of the market and serve as close contenders within the digital segment.
To bring forth more insight into the competitive state of eCommerce sites in the UK, here is a list of some of the most influential eCommerce sites in the UK that have been predicted to grow even more popular with time.
eWorldTrade
It is arguably one of the largest B2B e-commerce websites in the world and has made an overarching impact in the UK market. eWorldTrade continues to be a trusted partner of buyers and sellers across the UK.
Amazon UK
Currently, Amazon UK is the highest-ranking eCommerce website in the UK while simultaneously holding the position of being the highest-ranking online platform across all categories in the UK and has also been ranked as the 42nd highest rated site all over the world.
Initially starting as an online bookstore back in 1994, Amazon has come a long way by diversifying its products which include furniture, apparel, toys, food, jewelry, etc., and has risen as a super-power platform.
eBay UK
Coming next in line is none other than eBay UK, which has a long history of establishing itself as one the best marketplaces where you can buy and sell fashions, cars, electronics, baby items, collectibles, sporting goods, and so much more.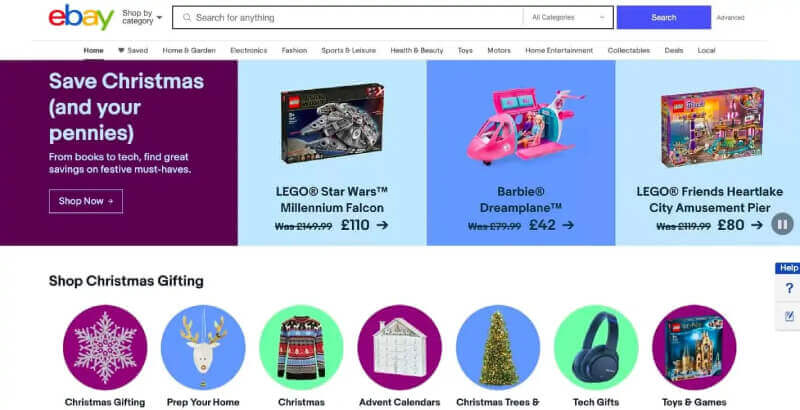 Since it was founded in 1995, it has expanded to more than 20 countries worldwide, and with its wide range of products, it has attracted customers from a different variety of demographics.
Asos
Founded in 2000, Asos is an online British cosmetic and fashion retailer that has become an eCommerce fashion favorite across the world, ranking in 5th place in the fashion/lifestyle and apparel category worldwide.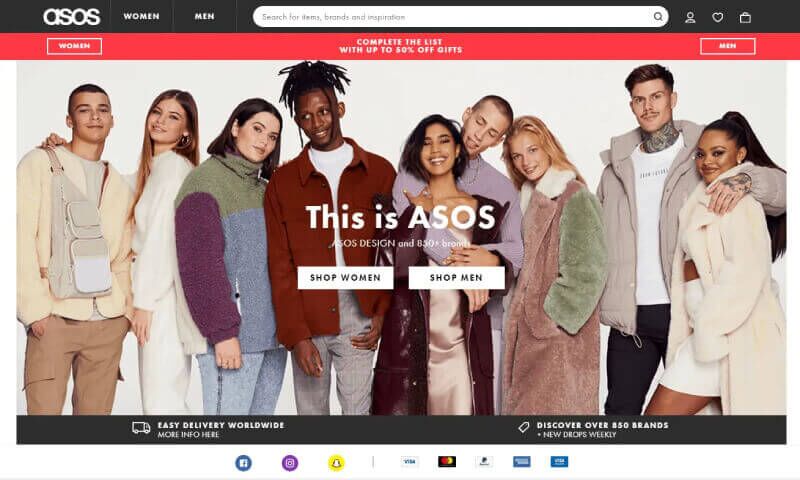 Currently, Asos sells more than 850 brands, with its own range of accessories and clothing. Its market is primarily focused on young adults from all over the globe and ships to all 196 countries from each of their fulfillment centers in the UK, EU, and the United States.
Argos
Argos is a famous catalog retailer that operates in more than 800 shops in Ireland and the United King. It is also a subsidiary of a British retailer called Sainsbury.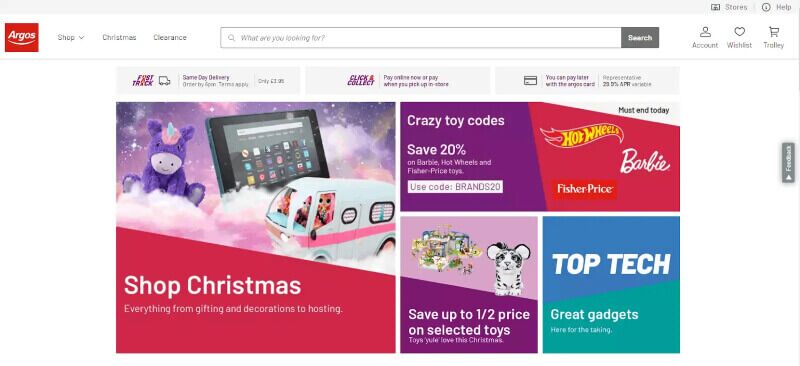 Argos sells a wide range of products that include clothing, sports goods, electronics, and many more. Aside from its traditional based operations, Argos is also known to be a leader in eCommerce in the UK.
Currys PC World
What initially started out as a computer store, Currys PC World has branched out to be one of the largest eCommerce platforms that cover a significant range of washing machines, cameras, cookers, laptops, TVs, etc.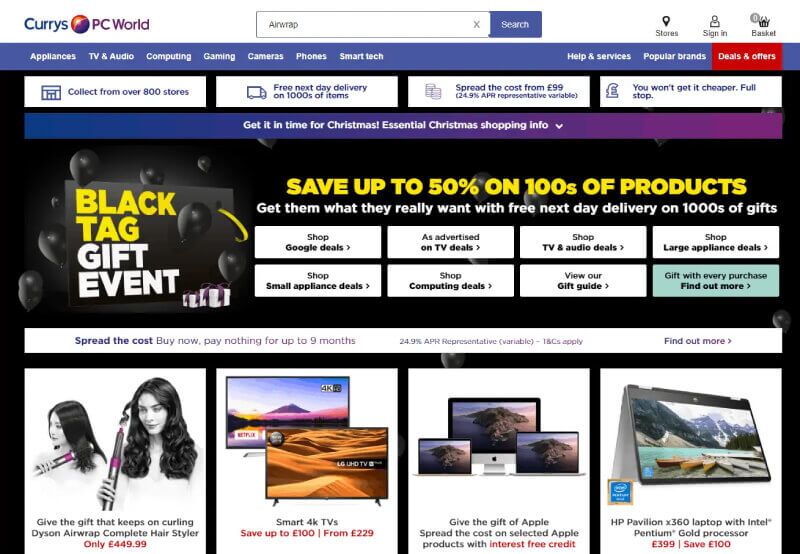 With both of their offline and online stores, they provide their consumers free home delivery as well as reserves online and in-store services. They are also known to specialize in technology and have ranked 9th place in this category.
Tesco
As a UK supermarket chain, Tesco has more than 3000 stores all over the nation, and with a thriving eCommerce, they have been ranked number one in the UK for their drinks, food, and grocery categories.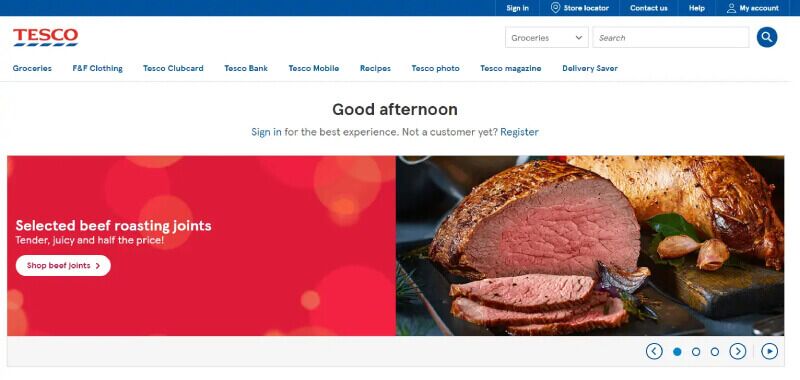 Aside from that, Tesco has also expanded its services from banking, clothing, telecommunications, and many more. As a result, they have become a prominent competitor across a diverse range of categories that have attracted consumers from most demographics.
Next
Ever since its establishment in 1864, Next has come a long way and now stands as a multinational chain of retail stores that sell a wide range of clothing, home, and footwear products.
It currently operates in more than 650 stores which include 500 stores that are in the UK and around 200 across Asia, Middle East, and Europe. When it comes to their online store, they have been selling more than 400 brands to customers around the globe.
John Lewis & Partners
If you are in search of a place that sells almost everything you want, you will find what you need at John Lewis & Partners. This eCommerce platform covers everything from season trends in furniture, homeware, and fashion all the way through to electrical items, finance, optometry, and so much more.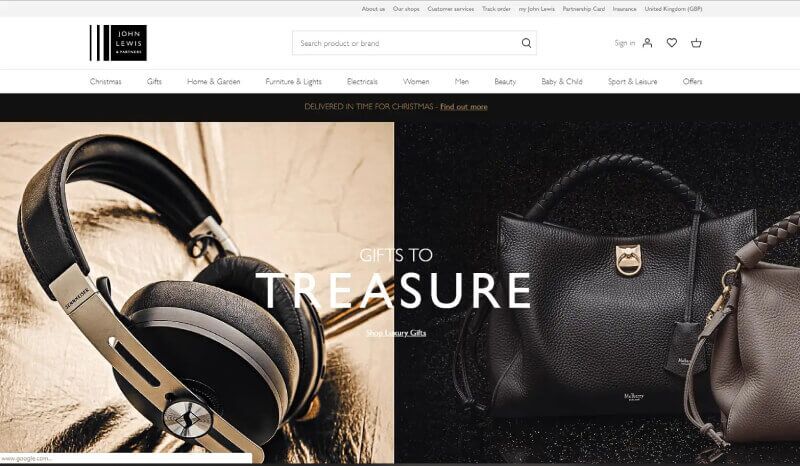 It initially started in the UK, but its offline and online retail giants have extended to Australia and the Republic of Ireland. As such, they have attracted a wide range of customers with diverse needs and requirements from all over the globe.
Gumtree
Gumtree started out as the first site for creating free classified advertisements in the UK that allowed visitors to sell and buy items from cars, properties and even find or offer employment opportunities to the public in their local area.
In the present time, Gumtree is still considered the number one classifieds website in the UK and is used by one out of three adults every month. Moreover, as a platform for selling and buying a wide range of products or sharing apartments and jobs, Gumtree is the highest-ranked within the marketplace category.