Sedona is a popular travel destination for its beautiful scenery and its warm weather. Did you know it's also known as a hotspot of mysticism and spirituality?
Concentrated energy formations throughout the area are the reason many believe it is a place of great wonder. Sedona just may be one of the most mystical cities in the country. Here's why.
Magnetic Vortex
A vortex is a place where natural magnetic energies from the earth converge. It is a popular thought that you can actually feel these energies, physically and spiritually.
Some even believe that Sedona's vortex is the source of the region's desert plant life. It certainly is one of the main reasons the city is known as such a mystical place.
Tremendous Beauty
Sedona is a beautiful area of the United States. When you go there, you'll have the opportunity to see vast canyons, serene desert, majestic bluffs, and impressive rock formations.
You can enjoy a stellar view of the stars at night and smell the desert blooms throughout the day. Due to its elevation, at approximately 5,000 feet above sea level, Sedona even sees snowfall sometimes.
The marked contrast of white snow resting upon red rocks is a stunning sight you're not likely to see anywhere else.

Incredible Rock Formations
The geography of Sedona is specularly uncommon. Various types of rock formations rise up from the ground throughout the area, creating a dynamic landscape that only enhances Sedona's mystical vibe.
Located about 90 minutes north of Phoenix, Sedona is a vast desert sprinkled with rising stone pillars and steep cliffs. The red rock can be seen at varying heights and sheer angles that offer dramatic, eye-catching wonder.
The geographical landscape of this place is certainly a contributor to its magnetic draw. Some people even believe deities or spirits reside in various rock forms.
Outdoor Adventure
With so many natural wonders to explore, Sedona is definitely a hot destination for outdoor adventurers. If you enjoy hiking or mountain biking, you'll discover a plethora of trails to explore.
There's something for individuals of all skill levels. Perhaps you'd prefer to check out the terrain in a motorized vehicle instead. If so, you might enjoy touring the area by ATV or Jeep.
Brave souls who aren't afraid of heights can even take a hot air balloon ride for a panoramic, bird's eye view of this kaleidoscope of colors. Go for a swim at Slide Rock State Park, have a picnic lunch along Oak Creek, or stargaze among the cliffs.
There is no shortage of ways to take advantage of the gorgeous great outdoors of Sedona.
Spiritual Pilgrimage
People of many spiritual faiths flock to the area regularly. In fact, it's become a well-known destination for those seeking enlightenment and awakening. The reason for such spiritual pilgrimages may be due to the intense energy said to be felt throughout the area.
Native Americans have long held that the veil between this world and the spirit realm is thinner in Sedona, making it easier to commune with ancestors and entities beyond this world.
New Age Capital of the World
People worldwide consider Sedona to be the New Age Capital. They come in droves to be close to nature, gain energy from the electromagnetic vortex and receive spiritual guidance.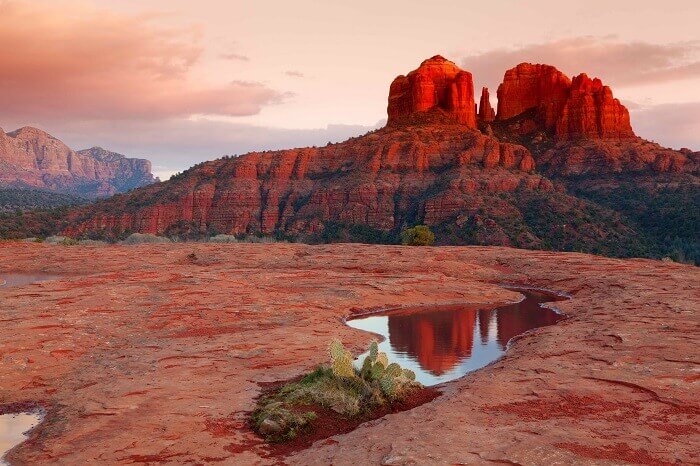 Meditation retreats, professional healers, yoga studios, and renowned psychics have set up shop in this mystical city. These types of Sedona Arizona businesses and more abound to provide visitors with the services and goods they seek.
You'll find crystals, incense, statuary, divination tools, and other such resources to enhance your spiritual journey in this magical place. Communities of like-minded seekers abound in Sedona.
It's a place where people can obtain fellowship, enlightenment, and peace.
As you can see, there are plenty of things that make Sedona a mystical place to visit and live. Even those who aren't spiritual in nature are sure to appreciate its immense beauty, lovely weather, and peaceful vibe.
Those who seek to enhance their faith can benefit from the incredible energies of the place and engage with others on their path to fulfillment.
If all of this sounds appealing, you'll want to be sure to add Sedona to your bucket list of places to visit.