It is the age of 'winner-takes-most market'. No one can afford to settle for the second best.
Uneecops Business Solutions (UBS) offers the opportunity to integrate and implement ERP to the best of its abilities. UBS was founded in 2017 as an arm of the Uneecops Group.
Also, the best technology alone doesn't mean business success; it's also about the ability to deliver the solution on an ongoing basis.
As an ERP provider of choice for Indian SMEs, Uneecops Business Solutions (UBS) believes innovation should go beyond technical upgrades. Innovations in ERP provide the much-needed competitive edge to our customers.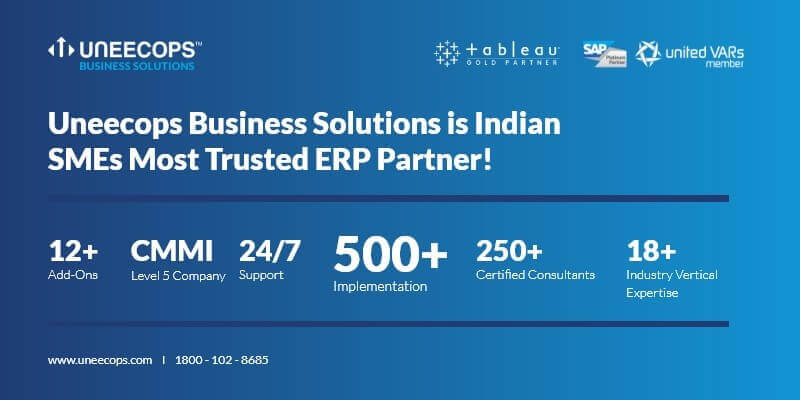 Championing ERP in 2021 and Beyond!
Recently, UBS was accredited with the 3 major SAP awards for SAP Business One and SAP Business ByDesign.
Uneecops have been awarded with:
Distinguished Partner of the Year for SAP Business One, APJ Region (2021)
Partner of the Year for SAP Business One, India Region (2021)
Impact Partner of the Year for SAP Business ByDesign, India Region (2021)
Our large community of 2500+ customers and 75+ channel partners trust UBS to run their mission-critical business processes.
As leaders in today's and next age of ERP, we go beyond technology. Just as important, it's been our ability to guide businesses successfully transition to cloud-based, modern ERP systems.
We provide the support, capability advice, and process expertise critical to a successful ERP implementation.
It's about Teamwork and our 'Partnering Together' model
We bring breakthrough business automation solutions to help organizations drive efficiency and prepare for the future.
Our focus lies on ERP technology that enables SMEs to grow in terms of their technological prowess. The success stems from our inherent commitment to support businesses to unlock modern ERP software solution service.
The team at UBS achieves this through a unique 'partnering together' model where we collaborate closely with companies to attain 360* digital transformation. Discover UBS' vision for a successful ERP journey:
It is about a complete change: Our ERP experts ensure that your business is fully prepared to go-live and maintain the ERP software. We help manage and deploy innovations that are constantly rolled out in cloud applications.
We are an ERP partner with a strong track record of helping teams like yours transition to a much better business management platform.
It's a partnership: We will understand your needs and consistently improve the ERP software service, embracing the new features and performance improvements.
It is about making your business (and life) easier: Following ERP go-live, our support team ensures that ongoing maintenance and continuous improvements are taken care of. We go the extra mile to offer all the technical support your business needs to leverage the best of ERP.
And finally, this is about end-to-end support: From the time you begin planning your ERP journey, through cloud hosting, integration, and go-live to ongoing innovation delivery, we're with our customers every step of the way.
ERP and UBS: A winning combination!
Even the most agile, forward-thinking businesses are faced with data and business management challenges.
Increasing amounts and data sources, along with an expanding remote workforce, add to the complexity—multiplying existing vulnerabilities and introducing new risks.
But data can work to an organization's advantage and drive better decisions to help uncover informed insights.
A modern ERP approach is the optimal way to secure, manage, and analyze that data. UBS recognizes that today's challenges require a new approach to ERP software service.
We offer:
Continuous business monitoring powered by new technologies: Our ERP software service and ERP implementation are undertaken after thoroughly analyzing your business processes.
New technologies like Machine Learning, IoT and Artificial Intelligence (AI) are used to automate mundane, repetitive tasks and constantly improve your operations.
An immersive user experience: Ultra-modern ERPs come with intuitive reporting and interactive dashboards. Such a user experience is sure to foster better productivity and profitability.
One cloud, zero silos: ERP covers every part of your business with consistency across UX, planning, processes, analytics, data, and cloud service delivery.
To outpace change, you need the continuous innovation that modern ERP, like SAP Business One and UBS, can deliver.
Transform into an intelligent enterprise now. Out-think and outpace your competitors with agile and scalable ERP.