During the summer season, our craving for the King of Fruit," mangoes, increases. Every Indian has an irresistible love for Mangoes. Its bright yellow color, soothing aroma, and refreshing taste make it a pure joy to eat. Mango tastes delicious when consumed raw, but is also used in a variety of dishes in India. Pickles, Sherbets, Ice-cream, Aam Papad, and AamRas are some of the most popular dishes made from mango.
In India, you can easily find different varieties of Mangoes, such as Safeda, Kesar, Alphonso, Badami, etc. But it's difficult to find Flavourful Varieties Mangoes in Germany. Even if you find it, the quality is not as good as the Mangoes available in India.
Well, no more you need to struggle to satisfy your love for mangoes. Dookan, an Online Indian Grocery Store in Germany brings you Fresh and Juicy Mangoes in Germany itself. They have amazing varieties of Mangoes and give wonderful discounts to their customers.
In this article, we have gathered everything you need to know about Dookan and the Mangoes available in Germany. Further, they have a spring sale going till the end of June Month, where you can win some mind-blowing discounts.
Get a Great Deal on Dookan during the Spring Sale
Dookan offers fresh and quality Grocery Items from the most popular Indian Brands. With their excellent offers and transparent services, they have become the top choice for Indian Grocery Shopping in Germany. In their ongoing Spring Sale, you can save a lot on your Monthly Grocery Order.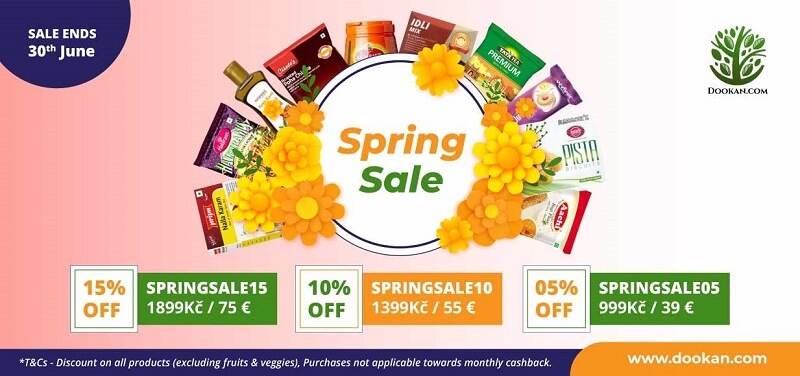 Spring Sale and other Offers you will get at Dookan
Dookan has launched the Spring Sale for June (ending on June 30, 2021). In this sale, you can easily avail of Big Discounts on your Grocery Order. Download the Dookan App from Google Play Store or Apple App Store, add your favorite Grocery Items to the Cart, and Place your Order. To benefit from this offer you need to apply the Coupon Code given below
To win a discount of 5% you need to make a minimum purchase of 39 Euros. Use Code SPRINGDALE 05
For a discount of 10%, you have to place a minimum order of 55 Euros. Use Code SPRINGSALE10
And on Orders above 75 Euros, you will get a Big Discount of 15%. Use Code SPRINGSALE15
Apart from the Spring Sale Offers you may also win Unlimited Cashbacks on your monthly orders from Dookan throughout the year. Also, you will win a Cashback of flat 5% on your first order using their Mobile App. Use the promo code MOBILEAPP05.
Know Everything About Dookan – Your Online Indian Grocery Shop
Dookan offers its customers not only discounts but also premium quality products. They deliver your orders directly to your home with proper packaging and safety. Below are the various benefits you will get when you Shop from Dookan.
Dookan has a broad range of Indian Brands. They have MTR, Haldirams, Patanjali, Aashirvaad, TRS, Heera, etc.
They offer almost every product required to fill an Indian's Pantry. From Flour to Rice, Pickles to Nuts, Spices to Oil, and Snacks to Ready-made Mixes, they have everything. Further, they also offer pressure cookers, Idli Makers, and Body Care Products.
They ensure on-time delivery of packages and provide you easy tracking of orders. They have their own vans and have also collaborated with DPD – the best delivery service in Europe.
They also provide deliveries on weekends and late in the evenings.
The fruits and vegetables they offer are Fresh, Hygienic, and Chemical Free.
Complete Honesty and Transparency in services with the upfront declaration of Expiry Date.
In case of Damage or Pilferage, easy refund or replacement within 14 days of delivery.
Enjoy Mangoes Online in Germany at a Reasonable Price
At Dookan you will get different varieties of Mangoes sourced directly from India. The Mangoes they offer are chemical-free, without the usage of Calcium Carbide in ripening.
Along with their delicious taste and flavor, Mangoes also provide numerous health benefits. It's a big myth that mangoes make you fat. They are rich in fibers and nutrients and are extremely good for your skin and hair. It also boosts your immunity and improves digestion. Shop your favorite variety of Mangoes in Germany from Dookan and enjoy summers.
1. Kesar Mangoes
The Gir Kesar Mangoes come from Gujarat and Maharashtra, the west part of India. It is very sweet and has an amazing fragrance. You can enjoy it raw or prepare a refreshing AamRas, or Mango Juice out of it. The Kesar Mango pulp is largely used in Juices, Jams, Puddings, and other Mango Recipes.
You can buy a box of half a dozen Kesar Mangoes from Dookan at just the price of 14.99 Euros.
2. Alphonso Mangoes
Alphonso is considered the most premium quality of mangoes. Its juicy pulp and creamy taste can make anyone's mouth water. It's Golden Yellow in color with a touch of red on the top. You can easily buy Alphonso Mangoes in Germany from Dookan. They have the best-quality Alphonso mangoes. The price starts from 16.99 Euros for a box containing 6 Alphonso Mangoes.
3. Badami Mangoes
Badami Mangoes are also known as Banganapally. They grow in the Southern Part of India, particularly Karnataka. Its skin is pale yellow in color while the pulp has an Orangish texture. You can easily get Badami Mangoes delivered to your doorstep with Dookan. The price starts from €13,99 Euros for a box containing 4 Badami Mangoes.
4. Raw Green Mangoes/Kacchi Kari:-
Raw is also known as Kacchi Kari. Like other mangoes, it isn't sweet and has a pungent smell and sour taste. They are used to make pickles, chutneys, and sometimes added in curries. Raw Mango powder is also known as amchoor, is often used to add a sour flavor to Indian dishes and can also be sprinkled on fruits. The price starts from €3,79 Euros for 500g Raw Mangoes.
Conclusion
Despite being far away from India, you can enjoy the delicious taste of Mangoes in Germany with Dookan. And with their spring sale going on you can avail of some great deals on your grocery orders this month. Along with Mangoes, Dookan also provides Jams, Pickles, Pulp, Sherbets, Toffee, and other mango products. You should definitely stock them for off-seasons when Mangoes are not easily available. So, don't wait and buy Indian Mangoes in Germany at a discount.